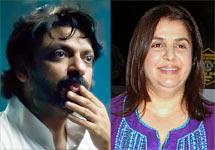 Those who thought Farah Khan's [
Images
] stint as a leading lady in Bela Sehgal's
Shirin Farhad Ki To Nikal Padi
would just be a one-off thing, here's some news.
Sanjay Leela Bhansali [
Images
], who is the producer of the film, is so impressed by Farah's performance that he promptly offered her a significant role in his epic tale
Heera Mandi
. The offer is for the title role, no less.
Confirming the news, Farah said, "I thought Sanjay was joking. At the moment I am looking at
Shirin Farhad Ki To Nikal Padi
as my first and last film. I don't think I can handle the pressure of an acting career. I have three growing kids and a  home to look after. I also have a  film to make."
Farah however is not a stranger to Sanjay Bhansali's persuasive powers. "The main problem is, I hate putting on makeup and facing the camera. I can't handle it. Having said that I have to admit that working in
Shirin Farhad...
was great. Boman is a fabulous co-star. We've both worked hard to get the Parsi nuances right."
Tell  her  she would probably win all the best debutante awards of  2012 and Farah laughs, "There are so many other female debutants this year. I don't know if I  stand a chance."