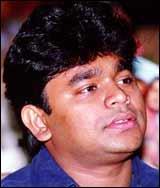 A R Rahman is scoring the music for a Chinese film!
The music director, who recently won his fourth National award for Kannathil Muthamittal, has composed the music for He Ping's Warriors Of Heaven And Earth, starring Jiang Wen, Zhao Wei and Wang Xueqi.
The film revolves around a caravan during the reign of China's Tang dynasty, passing through the western territories, that carries a sacred bone of the Buddha. As the film progresses, several characters, each with different motives, plan to steal the bone. 
Filmmaker He was impressed when he saw Andrew Lloyd Webber's hit musical play Bombay Dreams in London, for which Rehman has scored the music. It led him to seek Rehman out and offer him this job.
The recording has been split between London and Chennai (where Rehman has his Panchatan Studios). The singer, Jo Lin, was staying in Chennai for a while last month to work on the project. The music compositions are over, but the final mixing is currently being done in Chennai.
Just a couple of years ago, Rahman was going through a lean patch, with not much of his output enthusing the masses. That was when he decided to cut down on his assignments drastically and concentrate on Bombay Dreams. 
That decision appears to have paid off for him big-time and the music ace is now back at the top. Not only was his score for Bombay Dreams widely appreciated, the play will soon be going to Broadway. Meanwhile, Rahman's musical score for director Shankar's latest film Boys, released just over a month ago, has also become a monster hit.
Rahman had earlier won the National Award for Roja (1993), Minsara Kanavu (1998), and Lagaan (2002).