Even as Rani Mukerji gets ready for her next release, Baabul, this week, her brother Rajaa is busy wrapping up his directorial debut film in Darjeeling.
A Bengali thriller titled Bidhtaar Lekha, the film stars Bengali actor Jeeth with Hrishita Bhatt and Priyanshu Chatterjee.
"In the Bengal film industry, Bollywood heroines are considered big," Rajaa explains. Incidentally, Dia Mirza was first roped in to play Hrishita's part.
"The film is shot in Darjeeling, as it gives the romantic yet eerie feel that I require for my film," he adds.
For a man whose sister is one of the top stars in the Hindi film industry, his journey has not been a cakewalk. Rajaa started out designing clothes for Rani at the start of her film career.
"I did 14 films in a span of five years with her, like Badal, Bicchu, Har Dil Jo Pyar Karega, Hadd Kar Di Aapne, Nayak, Raja Ki Ayegi Baarat, Mehndi, few outfits in Ghulam, Kahin Pyaar Na Ho Jaaye, Chalo Ishq Ladaye, Calcutta Mail and Hello Brother. Chori Chori Chupke Chupke was my last film with her," he says.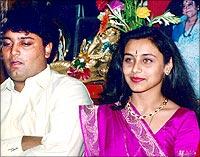 The siblings often shared inputs while working on her outfits. "If actors don't like an outfit, they often throw it away," he says. "And it is normal for a star to give inputs. So Rani and I would discuss the detailing of her outfits. We would fight like mad over creative differences. Once when she shooting for a song in Kahin Pyar Na Ho Jaye, and I had to make some changes in her dress. She did not like it, and we had a lot of arguments on that. Ultimately, we had to design another outfit."
"In Hello Brother, we made a gown out of soft metal that looked like steel," he continued. "The metal would keep getting entangled in Rani's stockings and that made her very upset. In a fit of rage, I went out and bought her some 60 stockings. Since the gown was required for the song, it was not changed."
After five years of working as Rani's designer, Rajaa branched into television production. He joined MAK, a television channel that eventually was not launched.
Rajaa worked at MAK for nine months as one of the creative heads but since it did not launch, he shifted to Dhiraj Kumar's Creative Eye production. Six months later, he started his own production house called Jyoti Rajaa Entertainers.
Rajaa's first serial was Pratima, a serial that ran on Sahara One for 200 episodes. "I directed 50 episodes," he said. "When the serial went off air in July 2005, I started scripting my film. That took eight months. Then, I started directing another serial Kisi Ki Nazar Na Lage for Doordarshan. My next serial will be a Hindu-Muslim love soap called Kehkashan, which will be on the lines of the film, Veer-Zaara."
Being a sibling to a star is not easy, he claims. Expectations for his film go up automatically, and 'people want to know if I can make a good director.'
Rani, however, will not make an appearance in his Bengali film.