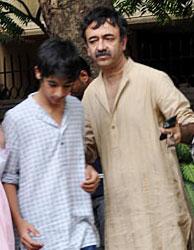 Director Raju Hirani's teenage son Vir has made his directorial debut with a film titled Return Gift, which will premiere at the ongoing International Children's Film Festival of India in Hyderabad.

The veteran director is known for making entertaining and socially relevant films such as Munnabhai series and 3 Idiots.

His 14-year-old son's film features in the Little Directors' category at the festival.

"Return Gift is inspired by a true story which depicts my grandmother's wisdom. My granny had narrated this incident to me and I vouched to portray it in the form of a film. The Golden Elephant has further encouraged me to make this sooner and better than planned," Vir said.

The Little Directors's category is an In-Competition category which features films made by children between the ages
of six and sixteen. There are eleven other films in the same category.
Vir has made this short film along with his class and batch mates namely Gia Arora, Jashan Arora, Aviral Shukla and Arman Talkar.
Vir is the director, photographer, and editor of
the movie.
"We are happy to have Vir Hirani participate and compete in the festival. It is a proud moment for us," Amole Gupte, Chairman, CFSI, said.
"It is encouraging and heartening to have a variety of movies made by children competing in the Little Directors category. I wish everyone the very best," Dr Shravan Kumar, CEO and Festival Director, CFSI, said.
Raju Hirani will be attending the screening of the movie at the festival.
In the picture: Vir with father Rajkumar Hirani. Photograph: Pradeep Bandekar