As he returns to the Nassau Coliseum after four years, composer and signer A R Rahman has another challenge: To show that a composer and accompanying singers can pack the 11,000 seats in the auditorium at this, his Three Dimensional Tour, just the way he did the last time he was in New York for a concert. Normally, you expect a combination of stars, say Shah Rukh Khan and Preity Zinta, supported by a raft of minor stars to pack the coliseum.

"Rahman has proved time and time again that his musical events are quite unlike those featuring other composers or singers," says Bharat Jotwani, whose Poojanka Entertainment is hosting the New York show, June 16. "His music has as much appeal as that of any big Bollywood star."

The year 2007 has been one of Rahman's busiest. Apart from working on the soundtrack of The Golden Age, his first British-American assignment, he has also added new music and songs to the $20-million musical, The Lord of the Rings, which opens in London in a few weeks. And then there is the much expected Jodhaa-Akbar, the historic love story, that brings Rahman and director Ashutosh Gowarikar (Swades, Lagaan) together for the third time.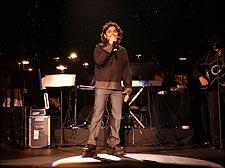 "It has been a very busy year. Yet I thought of the concert tour for many reasons," the composer says. "There have a lot of interesting films in the last three years in Hindi and Tamil; and that means I can offer old and new hits."
He also loves being with his singers off the recording studio but doesn't get many opportunities to do so in India. "It is a different feeling when you work with them for a stage show," he explains. "The challenges are different, and we come alive even more than when we are in a recording studio. The friendship also grows."   

Coming with him are some of the singers such as Chitra and Hariharan, whose careers had begun a years before Rahman himself took off with the astounding success of Roja in 1992. They were part of the film's immensely popular score, along with S P Balasubramaniam. Then there many singers who either made their debut in a film with Rahman's score – such as Naresh Iyer (Rang De Basanti) -- or shot to prominence thanks to his tunes. Sukhvinder Singh (Dil Se), Madhushree (Tezaab, Guru), Sadhana Sargam (Water, Earth 1947), Blaaze (Rang De Basanti), and the multifaceted percussionist Sivamani, are among those in the latter category. There would also be several young, up-and-coming singers.

The New York event follows concerts in half-a-dozen cities, including Vancouver, San Francisco and Dallas. The one held in the tristate area will have the polished version after several tryouts in other cities. Never mind how well rehearsed the musicians, singers and dancers are, every show becomes finetuned as it goes from one city to the next.
Rahman's biggest challenge, however, is not assembling first-rate
artists or having the best acoustics at each venue.
"There are fans who have long memories," he says.  "And there are fans who love the recent songs. Now, I would have a good mix of the old and new. Even then it is not easy to choose one beautiful song over another."
Since his debut in Roja, the little film that became an instant hit, Rahman has scored music for over 100 films, including the Hindi-language hits Rangeela, Taal, and Meenaxi. Many are big-budget films, and some, like the M F Husain-directed Meenaxi, did not cost much.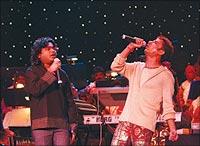 "I take up a film even though I know its commercial prospects may not be very bright," he says. "You respect someone's arts and Husain is one of the people I have a lot of respect. I can never refuse to d film for him." He may  have a song from the Hussain film at the New York event.

A few weeks ago, as he was preparing for the show in Chennai, he was certain there would be songs from his latest hits, such as Guru and last year's Rang De Basanti. He was also keen to include a number or two from his recent hits, Rajnikanth's Tamil film Sivaji. Rahman was also thinking of including a song from the Tamil hit Jillunu Oru Kadaal.

"I am keen to present at least one song from Deepa Mehta's Water," he had said. Many consider Water to be one of his best achievements. But the film, which ran into trouble from Hindu fundamentalists and had to be shot in Sri Lanka several years later in almost anonymity, had a very small run in India. Its music was not released.

"It is one of my few scores that was not well released," Rahman says. "The songs were well used in the film but they did not reach the listeners in significant numbers." The numbers were sung by Sukhvinder Singh (who also wrote couple of lyrics) and Sadhana Sargam among others.

"She is one of the few singers who has surprised me at every turn," Rahman says. "Many singers do a very good job of doing exactly what I tell them to do but she somehow goes beyond instructions. She takes a song to another level effortlessly, and she is so good at it that I am surprised every time I work with her."

To perform live with Rahman is a dream for any singer, you will hear the biggest names in Mumbai and Chennai say. Whether it is Sonu Nigam or Kailash Kher or Alka Yagnik, every one wants to be in a Rahman show. But there are other commitments, there are also problem of schedules, and some singers who dearly wanted to be in his concert this time are either travelling with other shows or are not well.

"I had already made a commitment to the Asha Bhosle show when I heard that Rahman wanted me to be part of his show," said Kailash Kher who sang several haunting Rahman songs in Mangal Pandey, including the title track. "I feel I have lost a great opportunity but I hope I don't have to wait for another four years for Rahman to offer a concert in America."