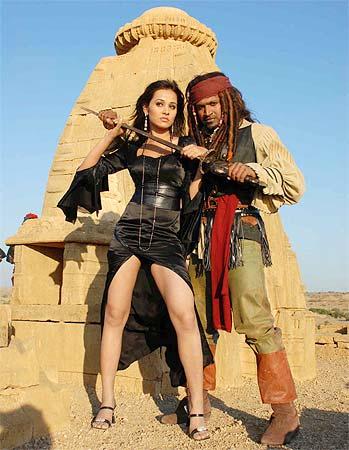 Raaj -- The Showman is one Kannada film which is raising a lot of expectations from the day it was launched [on Dr Raj Kumar's birthday -- April 24, 2008].
Directed by "Hatrick Hero" Prem, the film stars "Power Star" Puneet Raj Kumar and the glamorous Nisha Kothari.
The most interesting feature of the film is a song sequence with Nisha Kothari featuring Puneet Raj Kumar in a Captain Jack Sparrow get-up [made popular by Johnny Depp in the movie The Pirates of the Caribbean] .The song was shot at many landmarks in the northern part of India including the Taj Mahal.
"In Agra, many tourists were curious to notice Puneet in the Jack Sparrow outfit. They snapped pictures with the him and Nisha too. We saw their pictures in the local press," says Prem.
The director also confirmed that Puneet is not playing a superhero in Raaj. "As far as super-heroism goes, there is a sequence in the film where Puneet is seen jumping from one building to another to escape the villains chasing him. But we saw to it that there is logic in whatever he does. The fear of losing life makes even a normal man a super hero!," he adds.
It is said that Puneet risked his life to shoot some of the scenes. One of the scenes required him to jump off from an 80-feet tall building. Besides the daring and thrilling sequences, there are many superb stunt scenes too, says Prem.
"One fight was shot in specially-erected sets in a dilapidated lamp factory in Mysore. To resemble the slums of Mumbai, 60 slums were erected. Petty shops and a hotel were also built in the set. This action sequence will be much discussed in the industry," he boasts.
Another highlight of the film is that Puneet will be seen dancing with seven heroines -- Jayanthi, Bharathi, Jayamala, Oorvashi, Ambika, Jayaprada and Roopa Devi!
Text: R G Vijayasarathy