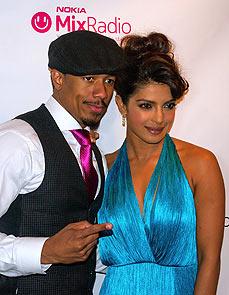 Priyanka Chopra launches her third single, I Can't Make You Love Me.
Bollywood darling Priyanka Chopra had invited the American media and entertainment industry folks and some lucky fans to the launch party for her new music video I Can't Make You Love Me recently.
The venue was Manhattan's TriBeCa Grand Hotel, a boutique hotel in the hip, cobblestone eponymous downtown district.
Chopra, in a shimmering floor-length cerulean gown by Tamara Mellon and satin purple shoes, greeted her guests and thanked them for their support.
The EDM song, the third single of her debut album, is a cover of Bonnie Raitt's 1991 classic country ballad, which was named one of the 500 Greatest Songs of All Time by Rolling Stone Magazine. Here, it's given a pop twist and dance beats.
It's all part of the Bollywood star's entry into the American music scene. But for a newcomer, things have not been that bad.
Priyanka's single, In My City, debuted on the NFL Network's Thursday Night Football.
Exotic was a collaboration with internationally-renowned rapper Pitbull and peaked at number 12 on the US Hot Dance Club Songs.
And this latest one, which made it to the number three spot on iTunes India in less than 24 hours, will be given a major boost by the legendary Dr Dre in his ad campaign for the Beats Pill XL portable Bluetooth speaker. That drops May 1.
The I Can't Make You Love Me video was screened at the event after a number of other brief clips about Chopra and her work. It was directed by Jeff Nicholas and Jonathan Craven, who were also behind Justin Timberlake's Take Back the Night and Rihanna's What Now.
The video depicts the tear-streaked star playing out a volatile romantic relationship with a chiselled man, with cutaways to a sexy, wind-blown Chopra posing sad and solo, belting out the love song.
And if she's trying to stay away from conforming to Indian stereotypes, she's been successful: the only visibly Indian element is what appears to be one-on-one Holi celebration in a happy moment between the couple.
The four-minute story ends with her running away into the distance, her long ombre hair flowing behind her.
The former Miss World posed with some of the big names who showed up, such as Nick Cannon. She later tweeted: "Thank u Nick Cannon for coming to support me.. Ur an awesome friend."
Fashion icon Manish Malhotra and New York-based model-actor-designer Waris Ahluwalia also made an appearance, as did famed marketing executive Rohan Oza.
Madhu Chopra, mother of the singer, was there too.
The clips leading up to the big music video screening gave a sneak peak of the Dre campaign. There was also a clip of Milo Ventimiglia, Heroes actor who plays the part of the lover in I Can't Make You Love Me, congratulating Chopra since he couldn't be present at the party.
There were testimonials from Jim Iovine, head of Interscrope Records, the label that Chopra is signed to, Anjula Acharia-Bath, CEO of Desi Hits, and Troy Carter, who is well-known for formerly being Lady Gaga's manager.
There were shots of Chopra herself at stops on her American publicity tour, speaking to television show hosts and personalities on ET, FOX, and more.
"I love what I do," she said on a programme called Young Hollywood. "I just love everything that I do, whether it's making music, acting, travelling -- I enjoy it. I'll sleep when I die!"
Chopra has received some criticism for not doing anything to change American audiences' one-dimensional conceptions of India and Indianness -- like explaining her new music as being 'infused with Bollywood spice'.
But simply being who she is and bringing that to the US is something new and notable. She is indeed getting her foot into the mainstream pop scene and gaining attention, particularly through the people she is working with.
Contributors to her yet-to-be-named album include RedOne (Lady Gaga, Jennifer Lopez), Makeba Riddick (Cassie, Prince Royce), Timbaland (Brandy, Alicia Keys), Sean Garrett (Usher, Janet Jackson) and Toby Gad (Madonna, John Legend).
Additionally, producers from The Today Show, VH1, and more were in attendance at the party.
Chopra is the new face of GUESS and was the voice for the sassy female character Ishani, who comes in the form of a cartoon jetplane, in Disney's animated Planes.
She's definitely making her presence known on this side of the world.