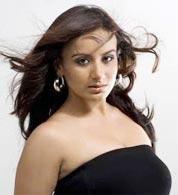 There is never a dull moment in the Kannada film industry. After Ramya crossed swords with the producer of her film Dandam Dashagunam, it is now the turn of actress Pooja Gandhi to enter into a controversy.

That Pooja Gandhi and film distributor Kiran (also a doctor and professor at Kempegowda Institute of Medical Sciences) were family friends, is well known. But there's been a rift in the relationship with Pooja filing a police complaint against Kiran for having sent her "threatening and defaming" messages. Kiran has filed a counter complaint levelling similar charges against the actress.

The discord in the relationship became obvious following an accident involving Pooja's car. Kiran claimed that the car belonged to him, and reprimanded Pooja for her behaviour after the accident.

"The red Innova she was travelling in hit an old man and despite it being the driver's fault, Pooja had yelled at the old man instead of apologizing. Since the registration document carried my address, the police landed up at my place and I had to face their volley of questions for no fault of mine," he explained.

The explanation held good only until Pooja gave her version. Not only did she deny the accident that supposedly happened near Lalbag, she also produced documents to prove that the car was registered in the name of her father, Pavan Kumar Gandhi. Once these documents were made available, Kiran did a volte face and said that only the address on the registration document was his and not the car.

Kiran has given no explanation for his allegedly "lewd" messages and Pooja interprets this as proving that he has nothing to say in his defence as she has not bad-mouthed

him in the first place.

"He is also going to town saying he got me films such as Taj Mahal and Shri Harikathe. But I wish to clarify that I am a self made woman and have worked hard to get to where I am. I don't go to people asking for work. Kiran did help me, but that was only to find me a house when I was new to the city.  He is just trying to tarnish my image and is behaving in an unstable manner. I will file a defamation suit against him," she says.

Kiran counters her claims and maintains that he had helped Pooja during troubled times. "I've known Pooja ever since her debut film Mungaru Male. It was produced by my brother-in-law E Krishnappa. Pooja was struggling to make contacts in the industry and she was not even allowed entry into E K Productions following her discord with actor Ganesh. But I took her to meet Krishnappa and also later got her Taj Mahal and recommended her to several film makers. She has been upset with me ever since I backed out from producing her latest release Nee Illade. She blamed me for the delay in its release. But I wasn't convinced of the subject and thus I decided not to produce it," he says.

Given that the two started as good friends, is compromise an option?

"I will not take back the complaint. I have spoken to Krishnappa sir, as I know Kiran through him, and he has asked me to take whatever decision I want. I will be speaking to the Artistes' Association also," says an adamant Pooja.

Not so long ago, actress Ramya had fought for her rights and now Pooja has followed suit. Whoever said actresses can turn on the heat only on screen?