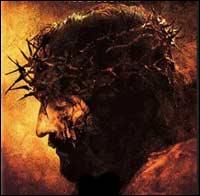 Mel Gibson's epic film The Passion Of The Christ has been voted the favourite movie of 2004 despite having been sidelined by the Academy Awards.
The film, which recounts the last hours of Jesus' (played by Jim Caviezel) life, received Oscar nominations for original score, makeup and cinematography in 2004.
The movie, currently being rerun in theatres in a less violent form, The Passion Recut, received the Consumers Choice for Favourite Movie of 2004 award at the closing ceremony of ShoWest 2005 in Las Vegas, reports Zap2It. This marks the first consumer award for movie of the year to be presented at ShoWest.
Gibson, the film's director, producer and co-writer, collected his award from Kathleen Ciaramello, Coca-Cola's vice president of entertainment partners and strategic alliances, and Jacki Kelley, senior vice president, advertising, USA Today.