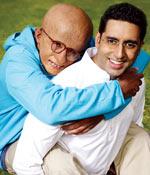 It's a comeback of sorts for Bollywood's Big B, not just for his path-breaking performance as a 13-year old boy, Auro, but as a producer.

 

Amitabh Bachchan's production house, ABCL, is back in the race with Paa. The production company, formed in 1996, ran out of luck after it hosted the Miss World pageant and a string of unsuccessful movies like Aks, Major Saab, Mrityudaata, Tere Mere Sapne.

 

Paa, made with a mere budget of Rs 15 crore, had recovered its money in the first three days itself (Friday, Saturday and Sunday). According to industry estimates, the film has made a net profit of Rs 12-15 crore from the domestic box-office alone. Paa is a co-production between Big B's ABCL and Anil Ambani's BIG Pictures.

 

"The film would have earned much higher but the opening of the film was lukewarm because of the subject. However, the movie picked by Saturday evening onwards and had almost 95 per cent occupancy,"

said Ashish Saxena, COO, Big Cinemas.

 

Added Alok Tandon, CEO, INOX Leisure, "The movie has had great word-of-mouth publicity. This has helped gain audiences after an initial low response. On Friday, we had 30 per cent occupancy, which doubled to 60 per cent on Saturday and on Sunday, we had over 82 per cent occupancy."

 

The opening may not have been great because of the senstitive subject of the movie, which deals with an extremely rare genetic defect that causes accelerated ageing. But Bachchan senior and the junior Bachchan's performances have created a buzz. Multiplex owners believe the movie will hold on for a few more weeks.

 

Interestingly, smaller towns, too, have responded well to Paa.

 

"Places like Panipat, Agra, Ambala don't have an audience for such films but in these places, Paa had an average occupancy of 50 per cent, which is very good," said Vishal Kapur, COO, Fun Cinemas. Usually a blockbuster does around 60-65 per cent in these towns.

 

After all, Amitabh Bachchan's patience in putting on the make-up that took four hours, and Abhishek Bachchan's in playing dad to Big B, has paid off.