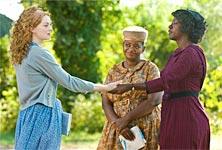 Steven Spielberg's DreamWorks -- with funding from Indian media conglomerate Reliance -- continues to enjoy a solid run across North America with the civil rights drama The Help.

This is the first hit for the DreamWorks-Reliance combo, which surfaced about a year ago. I Am Number Four, which bore the combined logo, had a modestly successful run worldwide, grossing about $160 million in February. But it is the $25 million (low budget by Hollywood standards) The Help that has got not only good reviews but is also fuelling Oscar buzz at least in the acting category.

The film about the fractured but redeeming relationship between a white woman and her black maids is particularly popular with women. Emma Stone is the 22-year-old Skeeter, a recent graduate from Mississippi, who is slowly getting to know Aibileen (Viola Davis), a black maid who has raised 17 white children. Minny (Victoria Spencer), Aibileen's best friend, is short, ungainly, and could be the sassiest woman in Mississippi. Her tongue gets her into plenty of trouble.
When Skeeter's close friend makes an issue of not allowing the 'help' to use the toilets in their employers' houses, Skeeter decides to write a book in which the maids will talk about their experiences.
Even those critics who believe that the film is too simplistic and cliched in dealing with race relations in Mississippi, seem to be unanimous in their praise of Viola Davis, who was seen in the Oscar nominated Doubt as a desperate mother, and a betrayed wife in the Broadway hit  Fences.
'Davis has created a gallery of women striving to hold on to rationality and pride even as the odds tilt against them,' wrote the critic Mark Harris in Entertainment Weekly. She plays the black woman Aibileen, who has to make many difficult choices in The Help. 'Her Aibileen is sorrowful, exhausted, and wary. When she walks, you feel the rust in her back and knees; when she misses the bus home because Skeeter wants to talk to her, her eyes and shoulders tell you what it costs her to extend her day. Using her controlled physicality, her low voice, and her radar for realism, she quiets the movie down -- which it desperately needs -- and turns herself into the embodiment of the pain, compromise, and strength.'
The film, which was number two in its first weekend, has been occupying top spot for two successive weeks. Despite Hurricane Irene dampening the box office on the East Coast, causing more than 1000 theatres in New York, Boston, DC and many other cities to close on Saturday and Sunday, the film grossed an estimated $14.5 million, taking its gross to $96.6 million. It is doing excellent business in the southern states as well as in Middle America, including the cities of Chicago and Minneapolis.
The Help also prospered this week as the three new releases -- the crime dramas Colombiana, and Don't Be Afraid of the Dark and the comedy Our Idiot Brother -- were all blown away. Box office experts believe that even without Hurricane Irene the films would not have done good business..
The Help could end its North American run with a solid $125 million though it may not do great business abroad where films about black and white conflict in southern America are not welcomed with open arms. But, then, there could be a surprise: the Kathryn Stockett novel on which the film is based has been translated into many foreign languages and has a good following in some European and South American countries.
Even if The Help flops abroad, it will surely be a profitable film because of its (comparatively speaking) low cost and a solid run in America and Canada.