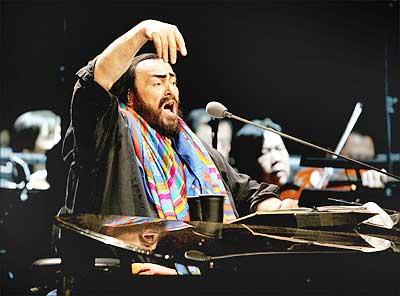 Opera legend Luciano Pavarotti, who died early on Thursday in Modena, Italy, of kidney failure after a long and painful struggle with pancreatic cancer, will be forever remembered for making the common man familiar with opera.
He was 71.
Pavarotti made a genre of music, usually associated with the cultural elite, bewilderingly popular.
Critics up in arms: Pavarotti sings arias chewing gum
Always a charismatic personality, with his giant appetite for food and life, he mixed opera with pop and blues and sang with rock stars and pop divas. He always made time for needy causes and held concerts the world over that drew pop star kind of numbers.
A concert at Hyde Park, London, in the early 1990s, had 150,000 people in attendance. Another concert at Central Park, New York, in 1993 drew 500,000 people!
His album, The Three Tenors, with fellow opera singers Placido Domingo and Jose Carreras, conducted by Zubin Mehta, became the largest selling classical music album of all time.
Pavarotti sang publicly for the first time in 1961 in the opera, La Boheme in Reggio Emilia, Italy. Twenty nine years later, he became world famous with his rendition of Giacomo Puccini's aria Nessun Dorma for the opening of the 1990 World Cup in his beloved Italy.
His last public performance was at the opening of the Winter Olympics in Turin, Italy, in February 2006.
Photograph: Pavarotti performs in Beijing, December 2005. Photograph: China Photos/ Getty Images