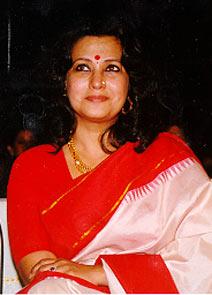 'One reason why Suchitra Sen quit acting in the 1970s was the mediocrity that overtook Bengali cinema.'

'Many of the directors she knew well and felt comfortable working with passed away. The scripts offered to her were awful.'

Moon Moon Sen talks about her famous mother, the legendary Suchitra Sen, who passed away on January 17.

Everyone's mom is very special. But she was special to not just me but all of Bengal, and beyond. She was so loved by everyone. It's hard to imagine she is gone. She was my entire universe.

Beautiful memories seem so painful at the moment.

She was very undemanding. She was very close to me but she knew I had my life to lead and came to terms with that.

My mother not only dealt with the film industry on her own terms, she also looked after the home and me. She did everything that a man and a woman combined could do in a family. She was both father and mother to me.

I remember I'd be doing my studies and she would be in the next room just back from her shooting, relaxing, sipping tea and keeping an eye on me.

I knew she was always there for me.

When I was not in boarding school, she would make sure she was home when I needed her, although she wouldn't pick me up or drop me to school. She didn't have time for that. We had a nanny for all that.

I was put in boarding school in Darjeeling and then in England. It was a joy to come back home for every holiday -- thrice a year -- to spend time with her.
Our most fun times were when I was in boarding school in England. Both my parents would come to pick me up and we would drive to Scotland and other destinations. There was no question of her privacy being violated during those precious family holidays.
When I left to go back to boarding school, she'd cry more than I did.
Later when I was studying in Kolkata, even when she was at work, she would ring up twice a day to find out about me, my meals, etc.
When I got married and moved out, it must have been very difficult for her, but she never expressed her anguish.
As a child, I knew her as my mother at home and as the actress in the studio. She started the star-system in Bengal. No one had an aura like hers.
Of course she had a fierce temper, which my daughters (Raima and Riya Sen) and I have inherited. She was very choosy about her friends and a stickler for punctuality.
If anything didn't go well while shooting, my mother would be extremely upset and would make no effort to hide it. That's because she was very particular about the quality of her work.
One reason why she quit acting in the 1970s was the mediocrity that overtook Bengali cinema. Many of the directors she knew well and felt comfortable working with passed away. The scripts offered to her were awful.
Uttam Kumar passed away and she'd say, 'Whom am I going to work with?'
Once she left acting, she left it behind completely. When I started acting, she would hardly ask about the film industry except maybe an odd question about how Gulzarsaab (who directed her in Aandhi) was doing. She was extremely fond of him.
Otherwise, she was totally out of cinema both Bengali and Hindi. She let her stardom go quite easily.
But stardom never let go of her.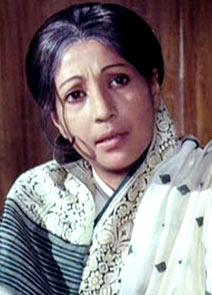 I remember I was on a flight with Andhra Pradesh's eminent producer D Ramanaidu. He said to me, 'Tell your mother I've a blank cheque waiting for your mother whenever she decides to work with me.'
Salim Khansaab told me she refused Yash Chopra's Deewar.
She liked being alone, but it's not that she didn't like meeting people. She liked meeting interesting people.
It's a myth that she didn't meet people. She met everyone she had to and was extremely polite and easy-going in her social interaction.
I think she missed the company of like-minded people. She had me and her aunts, sisters, nieces and very few friends. My mom had nine sisters. Now only four of them are alive; they were here after mom's passing away.
When she was working, anyone could approach her. She was there to help quietly. She looked out for her entire staff, visited their homes if they were indisposed.
Her charitable work was not tom-tommed. She was very generous. She had a great deal of self-respect mixed with a whole lot of humility. But she never allowed outsiders to come close to her.
One thing she always taught me was to hold my head high. She taught me so many values that I find so credible now.
When we are younger, we want to find out everything on our own. As we grow older, we realise our parents were right.
She never put any restriction on the way I dressed or behaved.
When I joined the Hindi film industry, many people smirked about Suchitra Sen's daughter wearing a bathing costume. Not once did she comment on my clothes.
She told me, 'You aren't comfortable wearing a sari? Don't worry about it unless we're going to a shraddh (prayer meeting) or something.'
It made no difference to me if the Hindi film industry thought I was wild because I wore a swimming suit. Now the Mumbai film industry has grown up a bit. During my days, it was different.
I'd keep shuttling between Mumbai and Kolkata trying to keep a balance between my mother and husband in Kolkata and my career in Mumbai. After a point, I stopped working in Mumbai and moved back to Kolkata because I wanted to be with my mother... Now I am without her.
She kept urging me to do a few more films and write. I suppose now I will write again. Maybe a coffee table book about my mother. I promised her I'd never write about her personal life.
I feel my daughter Raima can take over my mother's histrionic legacy forward and my daughter Riya would take forward my mother's spiritual legacy.
Her memories will never fade. I am certain of that.