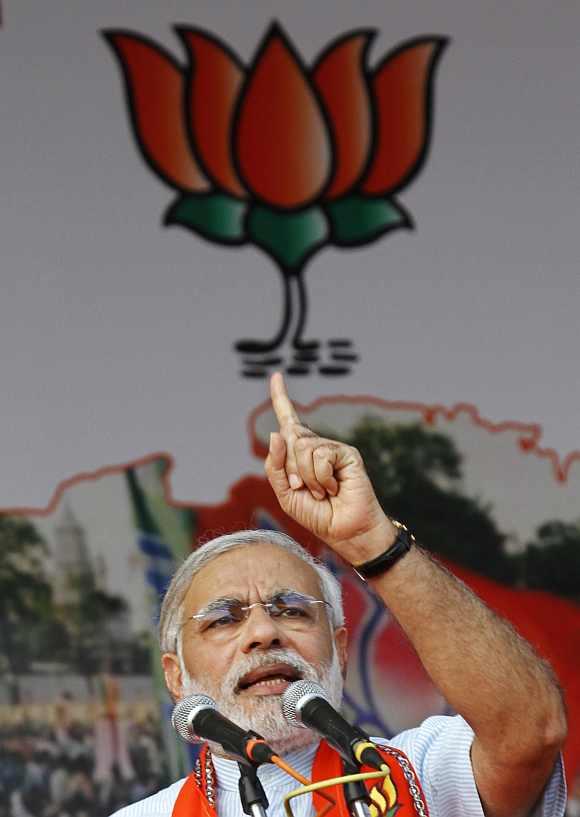 Gujarat Chief Minister Narendra Modi, who is in Hyderabad can term his trip a success even before he commences his address at the Lal Bahadur Shastri stadium. Looking at the scores of meetings he held, it can be said that many in Hyderabad believe that he would be the next prime minister of India.
The first of the meetings was with the industrialists, which was followed by the film fraternity. Superstars such as Mohan Babu, Allu Arjun, Balakrishna, Murali Mohan were among the others, who formed part of a delegation from the film industry who met Modi.
While many speculated that the meeting with Balakrishna, a Telugu Desam Party leader was regarding a tie-up, sources in the Bharatiya Janata Party tell rediff.com that it was only about the film industry.
The only concern that the delegation raised at the meeting was regarding the future of their industry, following the bifurcation of Andhra Pradesh. They told Modi that they believe he would be the next prime minister, and he should keep in mind the future of the film industry which is based in Hyderabad.
Modi listened to their grievances and said that let the Congress complete the process and if they ever do, the issue would be looked into and there was nothing to really worry about. Modi also held a series of meetings with former bureaucrats including Indian Administrative Service and Indian Police service officials, and spoke about development.
The leaders of the Madiga community too met with him and expressed their concerns.
Looking at the crowd in Hyderabad, one could say that the event is already a success. The number of people gathered to hear Modi is nearly a lakh, and people of Hyderabad say that he wouldn't have gotten these numbers in even Ahmedabad.
Modi's meet is a roaring success, and has garnered a crowd that Andhra Pradesh has not seen in a long time. The organisers could accommodate only 50,000 people at the LB Stadium. The state BJP has requested some of the theatres to telecast the event live.