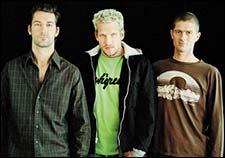 After Enrique Iglesias, Sting, Mark Knopfler and Joe Satriani, it's time for Michael Learns to Rock to tour India!
Yes, MLTR will perform at the Palace Grounds, Bangalore; MMRDA grounds, Bandra Kurla Complex, Mumbai and Polo Grounds, Shillong on September 25 and 28 and October 1 respectively.
The Danish band -- singer and keyboard player Jascha Richter, drummer Kåre Wanscher and guitarist Mikkel Lentz -- made waves with their first album The Actor, and went on to wow audiences with songs like Sleeping child, Someday and Paint my love.
The concert has been announced by Planman Life, and is in association with GIDF (The Great Indian Dream Foundation), founded by management consultant Arindam Chaudhuri (who turned movie director with Sunny Deol's Rok Sako To Rok Lo).