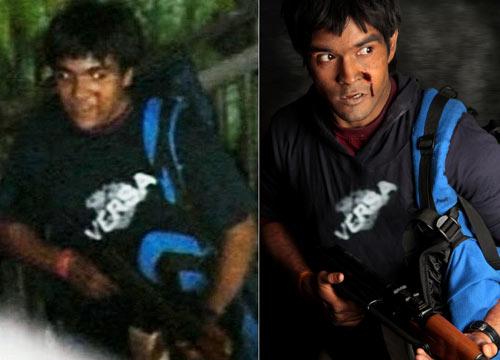 Ram Gopal Varma has started casting for his new film, The Attacks of 26/11, based on the terror attack on Mumbai in 2008.

And he has found an actor who resembles jailed terrorist Ajmal Kasab quite closely.

Theatre actor Sanjeev Jaiswal (top, right) is Delhi-based, and will make his foray into Bollywood with this film.

Talking about the film, RGV said, "Today is the first day of shoot of most important film of my career, The Attacks of 26/11 because

it's on the most important event that ever happened... if not in scale, damage and tragedy, just in sheer complexity, it beats even 9/11'.

Made for a budget of Rs 40 crores, the film will feature newcomers. It will detail every aspect of the terror attack, right from the time the terrorists took over Amar Solanki's trawler Kuber, the killings at CST station, the Taj Mahal hotel attack to Kasab's capture.

Do you think Sanjeev resembles Kasab? Are you looking forward to watch this film? Tell us!