A darker, tougher James Bond is about to be unveiled to the world and Casino Royale director Martin Campbell is convinced that Daniel Craig will win over a new generation of fans with a stunning performance as 007.
Campbell was heavily involved in the process which cast Daniel Craig (Layer Cake, Munich) as the new James Bond after an extensive global search.
Campbell, 65, was born in New Zealand and moved to the UK to work as a cameraman. He directed films like The Mask Of Zorro, The Legend Of Zorro and Vertical Limit.
He takes rediff.com behind the sets of Casino Royal.
Were you involved in the process of choosing Daniel Craig as the new Bond?
Oh yes, we all had to agree on who would be Bond -- Barbara (Broccoli, producer) Michael (Wilson, producer) all of us. I mean, we saw a lot of people. There was endless speculation about it but we had to go through everyone and we tested a lot of people. There were other names mentioned and finally it came back to Daniel. We knew he was the right man for the job; it was as simple as that.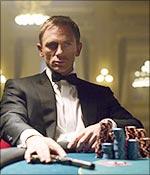 What did you like about Daniel?
Well, for a start, he's obviously a very, very good actor. Also, he fitted the concept we had; and he certainly fitted the book and the more realistic approach much better than anybody else. Casino Royale is a rather interesting book. It's his (Ian Fleming) first book, written in 1953 and it was set in the Cold War with Smersh involved -- Fleming's version of the KGB. It was a very realistic book too. It doesn't feature outrageous situations and actions. Bond is very real too. He is not the tuxedo wearing, womanising master spy that we have been given in the movies.
So he's not the sophisticate we know now?
No, he's not. Basically, he has just been given his first task after getting his 007 status, and he is still a bit green around the edges. For example, he has to kill someone and the killing is tough and it's messy and he finds it very disturbing. And it's also interesting in the book, he drinks way too much and he smokes about 70 cigarettes a day! (laughs).
Times change…
Oh, they do. So he is vulnerable and a dark character and has a dark side to him. He doesn't find it easy. He's very much a misogynist and explains why in the book -- actually there's a very good description of why he detests affairs and he actually talks about the steps you go through and how it all ends up leaving a nasty taste in your mouth.
Fleming at the time was about to be married to a woman he didn't want to be married to, so all of that sort of fed into the book.
Were there performances of Daniel's that convinced you he was your Bond? I'm thinking of Layer Cake…
Well, Layer Cake has a certain charm about it despite being about drugs. He is very charming in it. And normally, you associate him with slightly heavier roles like Enduring Love, The Mother, Sylvia, and actually I thought Munich was one of the best things he's done although he's hardly got a line in it. He's bursting with vitality in that role, and you can't help but watch him.
And as I've said, this Bond had to be darker and Daniel can convey that, rather like (Sean) Connery in a way, he has that dark quality and Connery had it --  that presence on the screen of someone who could definitely take care of himself. Daniel has that too.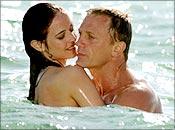 And do other contemporary movies feed into that decision that Bond has to reinvent itself? I'm thinking of maybe The Bourne films with Matt Damon which have been very successful...
They are up-to-date movies. I love The Bourne Supremacy and Paul Greengrass is a very talented director. He has that documentary style which gives it a great sense of realism. But, yes there's that to think about. Also, I think Cubby Broccoli always wanted to make Casino Royale so that was one of his passions to get the rights to the book and make a movie but he died before that was possible. So Barbara and Michael saw it had become available and leapt on it.
But just to go back to that earlier point, you liked Daniel's performance in Layer Cake and that was one of the defining factors?
I did like it, I liked Daniel in it. I thought Matt Vaughn did a great job and Daniel was great and it had a kind of charm to it.
Do you have to convince yourself that the actor you are going to choose to play this iconic character in this huge film is going to be up to giving a performance that will be holding the whole thing together?
Yes, but ultimately you don't know, you just hope you get it right. Daniel had never done an action film before and you gamble that he is going to be able to deal with that. Action is difficult. There's a tendency to be dismissive and say 'oh it's just action.'
I'm talking about the kind of action that feeds into the character and narrative. I don't mean the kind of action sequences that are there for their own sake without any character involved. Some actors you would expect to be very good because of their image, turn out to be incapable of doing action. Others know instinctively what is needed and are just naturals.
What was Daniel like?
He turned out to be very good. I mean, to be begin with, he buffed up and trained and looked great. But I think there was a little bit of a learning curve in the way you do action, the way you shoot action, the way it's done. But once he was in the rhythm, he was great.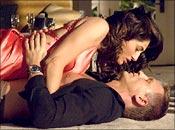 His relationship with Vesper Lynd -- played by Eva Green -- sounds like it's crucial to shaping the man?
Yes, that's all in the book and in the film. It very much shapes him. At the end of it, he becomes Bond, the one that we all know. And we do things that play into the myths. He asks for a Martini for example, but he doesn't say 'shaken not stirred' but he lists the ingredients, which is in the book. It's 'this with this and a touch of lemon.' So there are one or two embryonic moments as to how these things started.
You've had a great writing team on Casino Royale with Neal Purvis and Robert Wade who have worked on several Bond movies in the past. And you also had some valuable input from Crash director Paul Haggis...
Yes, and he's a very, very good writer and one of the things he did was beef up M's part, so (Dame) Judi (Dench) had a lot more to do in this, which she was pleased about. She's wonderful. She's out of the office a bit more this time. She went to The Bahamas and Prague and she has a good part. It's very, very good to see her and Daniel together.
There are, as always with Bond, some beautiful actresses in the movie. But each is playing a very different role from what I gather.
Well, Caterina Murino, who is a lovely actress, plays Solange and her purpose in the Bond is to show how Bond can be kind of chauvinistic in the way that he uses women in the sense that he will take them to bed to get information out of them and then leave them, that's his attitude going in. She plays the wife of a guy who works with Le Chiffre and Bond knows that he can use her to get to him.
So he's quite cynical in the way that he uses her?
Exactly. And that's the point. With Eva Green's character, Vesper Lynd, he meets someone who changes his life, she gets to him in a way that no woman ever has and changes his life because he falls in love with her.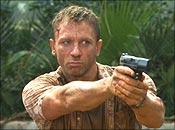 That's a big role. What was she like?
Eva was fantastic. It was interesting because we had approached better known actresses but then we went to Eva and I was amazed at how good she was. Her English is amazing and she has no accent at all. We tested her and she was very nervous in the test but I knew instinctively that she was the right actress. The Vesper character is very enigmatic and is a major, major part. This is not a Bond girl, this is serious stuff.
Is it possible to forget that it's a Bond movie while you are making it?
Oh I do, the actual Bond thing doesn't effect me at all, it's making a film, the drama that affects me. And you know as much as this is a Bond film it's also a love story, it's about a relationship and that has to work and that has to be right and it is, I think. On that level, we have great chemistry.