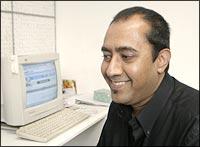 Singer Sanjay Maroo may be well the next trendsetter. His new album Chaley Jaaon is making waves on television. And, the album was promoted entirely on the Internet.
On Friday, November 25, Maroo came over to the rediff.com office and chatted with his fans. For those who missed the interesting and informative chat, here is the transcript.
Sanjay Maroo : Hi everyone, its nice to be here and to interact with you. so feel free and ask whatever you like

---
mehul : Hi Sanjay Maroo i am Mehul Hasmukh Bhai (printing press) son do u remember me
Sanjay Maroo : Hi Mehul, hope you are fine. Hasmukh Bhai is still remembered by everyone at Mangalam

---
tobeornot : do you do all of yr album on yr own?
Sanjay Maroo : Yes I do. Most of the stuff is also performed and played by me besides a few guitar parts or when I bring in a guest artiste. Otherwise, all the music and words etc are all done by me. In fact this album was also recorded and mixed by me.
---
prodigy : Sanjay what music you like?
Sanjay Maroo : open to all kinds of stuff as I have played pop rock and jazz at professional levels. However, at this stage in my life, I find jazz more stimulating and challenging.
---
SaKeT : Hey Sanjay!just wanted to tell you that your song Tu hi TU from your first album,is amazing. it just never leaves my mind...its one of those songs i won't forget even if i get a brain transplant....wish you all the luck wid the new album
Sanjay Maroo : Dude you don't need to get a brain transplant..just keep listening to good music and stay away from remixs and all will be fine
---
tobeornot : why dont you get into full time production?
Sanjay Maroo : I am currently working on honing some more skills and hope to fulfill this long time wish of mine
---
a : hey Mr. Maroo this is Arup from Kolkata, I want to know about the prospect of whistling in IndiaI heard in Belgium experiments are going on about this
Sanjay Maroo : I can tell you whistling has been accepted as a music form in Indian films as well as in pop for a long time. PS: just be careful who you whistle to.
---
jhgkjhk : r u married?
Sanjay Maroo : What do you think?
---
tobeornot : do you give drumming lessons?
Sanjay Maroo : Yes. It is possible. But, the only problem is my timing. I am very busy. But, would love to accommodate a committed person.
---
HELLOJI : SANJAY I MUST TELL YOU THAT YOUR VOICE IS QUITE BAD
Sanjay Maroo : Thanks for the opinion. I personally also do think I am not much of a singer.
---
anupam : Hi Sanjay.......Which is your favourite song (among ur collections)
Sanjay Maroo : My current favourite is the track Hare Krishna from teh latest album because it was the first time that I tried acaella and it is sung for the almighty lord
---
harrypotter : Sanjay if I want to record an album at home, are there any sound engineers who will help me? Or do I have to learn softwares first?
Sanjay Maroo : Like in any other software, in order to be able to utilise the software to its optimum, some knowledge would help. but with the technology that is available today, anything is possible. in fact, i recorded Chaley Jaaon at home
---
apple : What do you think about live bands using midis...is that cheating?
Sanjay Maroo : No not at all. As long as when they are on stage, they are actually playing. No miming.
---
suzaine : which is ur favourite heroine sanjay??//
Sanjay Maroo : sorry suzaine. there are so many questions. the fact is I don't see many movies. but I do like Rani Mukherjee, cause she can emote really well.
---
jhgkjhk : how old are you ?
Sanjay Maroo : how old do you think i am. you go first
---
vamshi : hi SANJAY! If not a singer, what would u be??
Sanjay Maroo : I am a businessman already. and, by day, i run an office. so am already leading a dual life.
---
tobeornot : when did you start learning drums?
Sanjay Maroo : i used to sit in front of a mirror just wtih sticks acting like there was a real drumset in front of me. that's how i learnt. that was when i was 12 or 13 years old.
---
Reena : Do you know hindi
Sanjay Maroo : i know hindi and marwadi..do you know marwadi
---
vamshi : Do u think its easy 2 manage playing dual roles in business life itself apart frm one's personal life?
Sanjay Maroo : it's not easy but i have been blessed with a great family who understand and allow me the space.
---
Rao : Hi Sanjay, thanks for taking time to come online. What did you do to be what you are now? Answer at your own leisure. :-)
Sanjay Maroo : I just followed my inner voice and just added a helluva lot of effort and am still trying to break my own and external barriers.
---
pradeep : sanjay ! i am listening to ur first song tu hi tu ! and i waited for a long time for ur second one, y dont u do more albums ? and y dont u show good looking girls in ur video and what about ur soul patch ?
Sanjay Maroo : I am sure the girls in the video would be upset to know that you did not like them :))
---
punit : Which is ur hometown and ur native place in rajasthan? Do u know
Sanjay Maroo : Of course I know and have been there several times. I am from Sikar
---
punit : ur basically maheshwari i guess.Hw u mangage business as well as shows? does not it affect ur business
Sanjay Maroo : yes I am maheswari. so how does that stop me from doing shows?
---
tobeornot : how was yr record label times music? why did you quit them?
Sanjay Maroo : my experience with them was excellent. in fact, i consider arun arora as my mentor.
---
punit : once read ur interivew in pune times two years back when u were in pune. Basically coming from a marwari buisness family was there no opposition from family members for singing
Sanjay Maroo : initially there was. but my father realised my committment and allowed me the freedom
---
anupamagrawal : Thanks a lot for answering my first question, Here goes the second.... why do u hate Remix songs, I mean they also have certain amount of creativity involved in them, and something new out of the old stuffs are presented, I agree that Videos are too ugly to watch.....
Sanjay Maroo : Anupam, I don't hate anything. it's just that the way things were going, original musicians were being given a raw deal. and models and dancers who had nothing to do with the music were given undue importance. I am glad it is beginning to change.
---
Datta : Sanjay where were you born and broughtup
Sanjay Maroo : In Bombay - all my life
---
suzaine : when and with whom you went on date for the first time?????
Sanjay Maroo : In college, on Christmas eve...a very long time ago...........
---
serpico : u took the step of tying up with rediff for your music downoads...u think thats really gonna help curb piracy?
Sanjay Maroo : Yes. we are trying something very different as far as india is concerned with the hope that if something is given at a very reasonable price, it would encourage people to do things legally.
---
jazzy : what is yr take on Madonna's new avataar... does every singer need to go through this phase ?
Sanjay Maroo : Yes of course. everyone in a creative field must reinvent.
---
aryan : Hi Sanjay, what do u think...will india win 2day??
Sanjay Maroo : Hope so but looks tough
---
SaKeT : HMM,SANJAY ACTING NAUGHTY!IF A GIRL QUESTIONS,TU NOSTALIGIC HO GAYE!HMMM.....
Sanjay Maroo : Kya Kare yaar...:))
---
jai : why are not interest in classical music
Sanjay Maroo : I love classical music and I have the highest regard for indian classical. the fact is that teh original jazz came from classical indian music as we taught the world how to improvise. and that is what jazz is about
---
arun : "SANJAY MAROO".......what does it mean????????
Sanjay Maroo : It means that when I was born, my parents looked at me and said this looks like a sanjay....and maroo is my surname....:))))))
---
ishtii : u r not answering to me, who is ur favourite singer?
Sanjay Maroo : Several of them. I am very fond of Janet Jackson, even more than Michael. In the men's section, I like Robbie Williams
---
Samir : With two albums you have your own website is it necessary
Sanjay Maroo : It is 4 albums. and the website is just a medium for those who are interested to reach me and to learn a little bit more about me.
---
supersinger : Please answer me Mr. Maroo, I am 20 years old, can I start learning classical right now? Or is it too late? Please please answer me Mr. Maroo.
Sanjay Maroo : It is never too late. in fact, i am still learning and one should always keep learning.
---
siju : who's ur most loveble person mom or dad
Sanjay Maroo : My father passed away many years ago..but he is with me in soul
---
sonunigam : what's ur opinion about me????
Sanjay Maroo : Sonu, you are an old friend of mine and I have seen you rise to the top. I wish you all the success and hope to make it for your dinner next week.
---
pradeep : when is the next video to be released
Sanjay Maroo : Just waiting for you to finance it. :))
---
ayesha : HEY SANJAY U DIDN'T ANSWERED TO EVEN ONE OF MY QUESTIONS
Sanjay Maroo : Sorry ..too many questins..please ask again
---
serpico : I've always found tht drummers dont get their due importance in india. Wht do u think could be platforms to encourage percussion based talent?
Sanjay Maroo : The fact is that musicians themselves do not get enough importance. even now songs from movies are still known as salman khan's song or shah rukh khan's song. so it is time that musicians got their due as well.
---
supersinger : Mr. Sanjay Maroo, voice is the main weapon of a singer. How do you maintain your throat? I mean is there any fixed diet for maintaining one's voice at peak level all the time? Because I always find iot difficult to sing in the mornings.
Sanjay Maroo : Scotch on the rocks is the best way to maintain ones throat....just kidding. It's only natural that in the morning your throat hasn't opened up so don't worry.
---
arun : Chaand ko garoor hai ki uske paas noor hai, to kya hua.... Mujhe bhi garoor hai ki mera Dost maroo hai!
Sanjay Maroo : Wah janaab..ab dusro ko bhi poochne diyjiye
---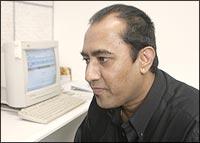 Manisha : Hey Sanjay i am a doc and a big fan of yrs is it possible to meet u by any chance??:) i mean any shows in delhi??
Sanjay Maroo : There are a few gigs lined up. i hope to be there sometime soon.
---
SaKeT : YOU BROKE MY HEART FRIEND....YOU DIN'T EVEN SAY VANDEY MATARAM.....
Sanjay Maroo : Vandey Mataram , jai Hind and mera bharat mahan
---
ASKSM : Hai Sanjay. Appreciate your success in this early age. Is Singing a career by Choice, or a GOD given gift (ofcourse given a good voice), or is hereditary? Or is it perseverance?
Sanjay Maroo : It's a career which I think was God ordained and a lot of perseverance. My father used to sing bhajans (only at home). so there is a hereditary factor.
---
tobeornot : what do you think of abhijeet sawant? hype or talent?
Sanjay Maroo : Mix of both.
---
jhgkjhk : how open minded are u? are you comfortable with the gay community?
Sanjay Maroo : I am totally cool with anyone and anything and don't judge people by their sexual preferences. to each his own.
---
serpico : Well Bollywood is the bane of the indian music industry.Its sad that home grown rock despite being good is still not promoted enough. IIT rock fests etc do help but only so much. Dont u feel the need for independent platforms?
Sanjay Maroo : Dude, at least today you guys have stuff like Campus Rock etc..when i was in college , it was a big deal to play anywhere. but things are improving. all the best to you.
---
Neha_here : Hey Sanjay !!! Cant beleive its u whos answering... !! Slitcha personal question.. do u have any women in your life (Dont break my heart :( ) !!! Hey...
Sanjay Maroo : Of course I have women in my life, I always have had them. They are the most beautiful things that God made. What would the world be without them?
---
Vish : i wish you use more of classical than modern instruments in any one of your tracks. im getting mad listning to all those crap remixes and west infulenced sonngs aired everywhere .. Hey help the nation man!!!! ;)
Sanjay Maroo : Brother, it heartens me to see that there are more people who think like me. YOu and me can help the nation together.
---
atul : do u plan to have a show in changigarh
Sanjay Maroo : nothing at present. But, if someone invites me I woudl love to come.
---
DireStraits : Hi Sanjay, I am a young music composer and singer and I share your thoughts about the piracy and the remix scenario. I am working on original songs that I've composed in my own studio, which I've managed to setup after a lot of study on MIDI and other sequencing technologies. I want to meet you for your guidance and help in releasing my album. How should I go about it?
Sanjay Maroo : please leave your details on my website adn I will get in touch with you.
---
ayesha : Hey Sanjay...Would u like to visit Hyderabad?
Sanjay Maroo : I love Hyderabad. In fact, some of my best performances have been there. The crowd is amazing. I remember Nizam Grounds with 25,000 people - out of control.
---
pradeep : hey u got a website or a email id ???
Sanjay Maroo : www.sanjaymaroo.com
---
tobeornot : how about jingles ? have you done any?
Sanjay Maroo : Yes a few. In fact, the new Smokin Joe's ad which is due shortly was done by me.
---
Nighthawk : What do you do when u are not singing or composing tunes????
Sanjay Maroo : In fact, when I am not working in my office is when I am singing and composing.
---
sukhvinder : hi sanjay, have u ever perform abroad, if yes , where ? do u think that you have got talent from within or pure hard work over the years
Sanjay Maroo : Yes. Several times. But more as a jazz drummer at international jazz festivals.
---
arti : hi sanjay you have sung so well the song of yours album.i realy feel that song.the thing you wanna say in this is realy nice .the lyrics of song is written by yourself.thank you
Sanjay Maroo : Thank you very much.
---
pradeep : did u ever download pirated songs ? an honest answer please
Sanjay Maroo : Yes. My own.
---
shilpa : Hi Sanjay.... Hey to be very frank.. this is d first time im hearing ur name...
Sanjay Maroo : I am glad, at least you heard it.
---
Masoom : what is urs sentiments in urs songs.
Sanjay Maroo : I write only what I feel. And, every word of what I write, I mean.
---
sansui6 : sanjay have u ever tried to copy anyone
Sanjay Maroo : Never. In fact, that is the reason I am not doing remixes as well as too many shows because I only sing my own songs.
---
Kaushik : Do you really know how to sing?
Sanjay Maroo : No. Do you give lessons?
---
ayesha : Hey Sanajy...if not a singer what would u be?
Sanjay Maroo : Actually, I am a drummer first and a singer later. But, otherwise, I would have liked to be an actor, do you know I am a bombay univeristy acting award winner?
---
Praveen : hey Sanjai, am your follower, and am writing ftom germany. how are u buddy
Sanjay Maroo : Doing fine. Thank you very much.
---
sukhvinder : hi sanjay i m from singapore, would like to know how many songs have u recorded so far
Sanjay Maroo : Around 50 recorded songs with 4 albums
---
tones : Do you think trance has a place in indian music?
Sanjay Maroo : Trance has no language and is universal. In fact, in Bomaby, we have trance music playing during ganpati visarjans
---
mono : Dont u think all indipop singers lack what their pakistani counterparts have.They r far better when it comes to musical tastes.What do u think?
Sanjay Maroo : The only thing that we lack is the faith of the people and the industry. Otherwise, we are as good as any in the world.
---
sansui6 : SANJAY DO U LIKE BABA SAIGHAL SONG
Sanjay Maroo : Yes. He is a good friend of mine and quite mad too.
---
protonriver : I'm sure most people (including myself) have never heard of you before the advert on Rediff. Do you think you're a star?
Sanjay Maroo : Rediff is doing a fabulous job. Maybe you should try it too.
---
protonriver : You'd be better off keeping a low profile until you really achieve something which can be remotely termed substantial.
Sanjay Maroo : yes, i think it would be right to keep a low profile after 20 years 4 albums and 7 videos
---
ASKSM : You are an acting award (BBY UNI) winner and not yet in BOLLYWOOD?? Why?? May be you are not a son of an ACTOR or POLITICIAN?? Right naa??
Sanjay Maroo : Ha Ha :)) Maybe.
---
Sanjay Maroo : It was a pleasure being here and chatting with all of you. Thank you very much.
Photographs: Jewella C Miranda