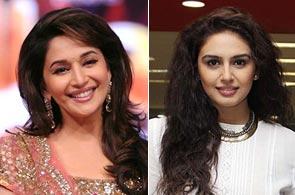 After Vidya Balan's sensual portrayal in Abhishek Chaubey's Ishqiya, Madhuri Dixit and Huma Qureshi -- his Dedh Ishqiya leading ladies -- are all set to hot up the screen.

According to reports, Huma Qureshi and Arshad Warsi have pulled out all stops for their love-making scenes in the film.
And Madhuri Dixit, who makes a comeback with Dedh Ishqiya, shares quite a few intimate scenes with her costar Naseeruddin Shah in the film.
"The intimate scenes have come out very beautifully. But let me also say that Madhuri's character is very different from Vidya's in Ishqiya," Chaubey says.

"Madhuri plays a Begum who lives in a palace in Lucknow. What we discover in the relationship between Madhuriji and Naseersaab is very different from the relationsip between Vidya and Arshad's characters in the previous film.

"While Vidya's intimate scenes were earthy and raw, Madhuriji's amorous moments with Naseersaab have been approached with a lot of dignity," the director adds.

Chaubey, who's worked with Madhuri for the first time, reveals that the script was written with her in mind.

The film also features a semi-classical dance number titled Jaagi saari raina, performed by the actress and choreographed by Kathak legend Birju Maharaj.

Huma Qureshi, who is seen romancing Arshad Warsi in the film, plays Madhuri's friend and confidante.
"Huma was very excited about working with Madhuri. Their scenes together are very special. I was left in a lurch after Kangna Ranaut opted out. Huma was roped in since I saw her acting in Ek Thi Daayan which I had co-produced. I'm quite happy that I decided to cast her in Dedh Ishqiya. In many ways, Huma's is the most complex character in the film."
Naseeruddin Shah, Chaubey adds, was very pleased to be romancing Madhuri in the film.
The film, thouh in its last leg of shooting, is expected to release only in January next year.
"I've been shooting the film since March and we had a long schedule in Lucknow. Now, only the climax remains to be shot. There are too many big films towards the end of this year so it's safer to release ours early next year," Chaubey explains.