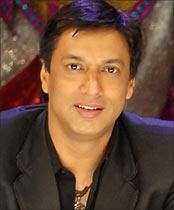 Filmmaker Madhur Bhandarkar [ Images ] is devastated. And understandably so.

His ambitious project Heroine had to be unceremoniously shelved after news of his leading lady Aishwarya Rai Bachchan [ Images ] being pregnant got out.

Bhandarkar finally broke his silence on the matter on his blog and blamed Aishwarya for hiding the news from him.

On his blog, he writes, 'The entire event would not have taken place if on the onset the actress would have informed the state of her health an impending maternity…. The truth was hidden from us. We learnt about the entire thing from news channels like the rest of the world that the said actress was 4 months pregnant and she was due on November.'

Bhandarkar adds, 'This decision of pulling the plug had a devasting effect on me... It was like an avalanche collapsing on me... I was in a state of total shock and depression... I have been working on the script for almost a year and a half...  I could not come to the office for almost 8 days for the fear of facing those people whose bread and butter depended upon the film... because in true sense these people were the worst affected by the turn of events...'

Madhur and Aishwarya had unveiled Heroine at the Cannes [ Images ] Film Festival in May.

He concluded the post by saying that he chose to break his silence on the matter because he realised that the truth had to be told.