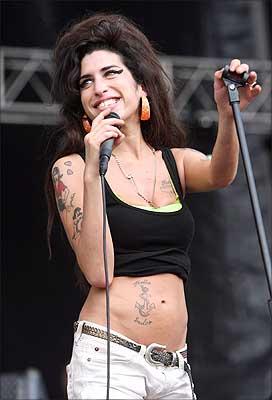 Looks like there is more trouble heading Amy Winehouse's way.
The singer, who has been in the news for drug use, rehabilitation treatment and cancelled performances, was arrested on Tuesday night for perverting the course of justice.
While the 24-year old was released on bail, her husband, Blake Fielder-Civil was not so lucky.
The singer's husband along with 39-year-old Michael Brown from Holloway, north London were arrested for their alleged attack on pub landlord James King at the Macbeths public house in Hoxton, east London, in June last year.
Charged with inflicting grievous bodily harm, Civil, 25, has been remanded in custody and is due to appear in court next month.
According to BBC, a statement released on Amy Winehouse's behalf said, 'Amy Winehouse attended a London police station today on a voluntary basis at a pre-agreed time. She was arrested, as is common practice, she is being interviewed by police. No charges have been brought.'
In the picture: Amy Winehouse performs onstage at the Virgin Festival By Virgin Mobile 2007 at Pimlico Race Course in Baltimore, Maryland. Photograph: Evan Agostini/Getty Images