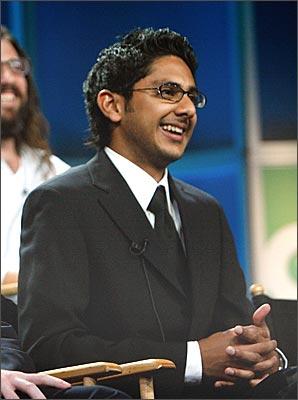 Adhir Kalyan, who plays a Pakistani student in the television show Aliens in America, understands some of his character's dilemmas because he has experienced them. The actor, born in Durban, South Africa, came to America a couple of years ago after living in London for a few months.
Kalyan, 22, who has played a number of small parts on television, including that of Ramlal Kirmani in Fair City, said in an interview recently: 'In truth, the only thing I found difficult to deal with coming to the States is the size of the portions of food. I mean, really, do we need portions that are that big? Africa doesn't need Bono. An African doesn't need Geldof. Africa needs a Denny's grand slam breakfast.'
On a serious note, he says he was lucky to have sought out a life in Los Angeles. 'Unlike a lot of actors who come out to make a movie and try to carve out a career for themselves, I came here with something which opens a lot of doors for me.'
The accent he puts on the show was quite alien to him but posed no problem, he says, adding that in South Africa he grew up listening to many accents.
But he was careful not to make the accent sound like a caricature, and he was doubly careful in portraying Raja, the student.
'I'm not Muslim and I don't think it makes a difference at all,' he said. 'I like to believe I've been fairly diligent in researching Islam, about trying to find out as much about Pakistan as I could. The script is so rich in material and descriptions and insight into the character. Raja is a character who happens to be from Pakistan and who practices Islam in his life. Of course, I do feel I have a responsibility to the Muslim community to represent this character in a positive way.'
He cherishes playing Raja for many reasons. "I think it's a very poignant time for this show,' he muses. `Enough time has passed since 9/11 for people to look back and view that incident and the repercussions that followed. But there's also significant tension that remains in the air, and so much is volatile at the moment.
The show, in terms of the involvement of a Pakistani Muslim with a Mid-Western family, and the perceptions and stereotypes that come along with that is as poignant as ever. The intention of the show is never to preach or intentionally impose a message of sorts onto the viewer. The intention, first and foremost, is to entertain the audience, hopefully, with material that is edgy and engaging. It's at the end of an episode where the audience takes away something from that, and to question their perceptions of people who are different or reflect on something in their own lives.'
Kalyan hopes the show is going to stay on for a long time with his character in it.

But isn't he playing an exchange student in it?
'In truth, Raja is so incredibly smart. I mean, they are going to want to keep him at that school,' he adds.
Photograph: Kevin Winter/Getty Images