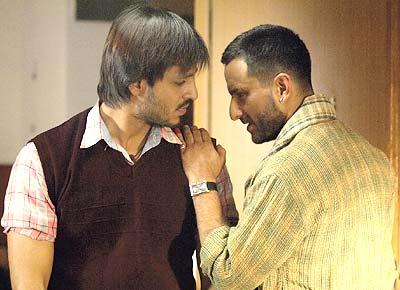 Saif Ali Khan has played a man with negative shades before in Kya Kehna and Ek Hasina Thi.
But it is Vishal Bharadwaj's Omkara that is rumoured to host his best villain act yet.
Saif plays the crafty Langda, whose pride is hurt when chieftain Omkara (Ajay Devgan) appoints Kesu (Vivek Oberoi) as his chief lieutenant. He hatches a plot to falsely implicate Omkara's lover Dolly (Kareena Kapoor), in a love affair with Kesu.
The plan takes shape, but ends in tragedy.
Omkara, which went to the Cannes festival this year, is scheduled to release in July.