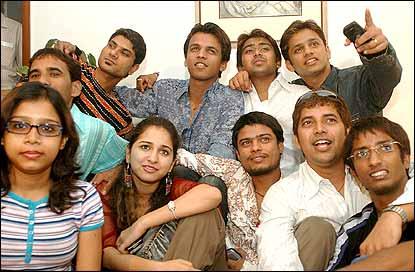 Time for a reunion.
After the rousing success enjoyed by the finalists of Sony Television's Indian Idol, winner Abhijeet Sawant (top row, centre) joins his fellow Idol folk for the first time since the show ended.
The gang is pictured during a press interaction for their upcoming live 'Yaaron Concert,' on Friday, June 10, in Mumbai.
The 11 SMS-chosen singing voices of the nation can be seen performing together in a two-hour long episode to be telecast on June 19 on Sony Television.
Photograph: Sondeep Shankar/ Saab Pictures