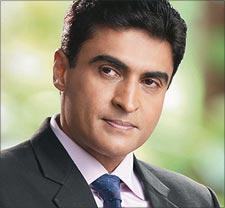 Actor Mohnish Behl, whose mother, the legendary actress Nutan, worked with Dev Anand in Tere Ghar Ke Saamne, recounts his meeting with the late legend with fondness.
I was too young when mom acted opposite Dev
saab
, so I don't remember our first meeting.
Later, I did a film with him.
Fifteen years ago, Goldie (
Dev Anand's younger brother famed director Vijay Anand
) called and said he wanted me to act with Dev
saab
and that I should come for the shoot, which would last four to five days.
I was overjoyed. I had always admired Dev
saab
. Goldie told me Dev
saab
was looking forward to meeting me as I was his co-star's son. When I went onto the sets, he was already there.
Devsaab gave me a hug and cupped my face with his hands. "You remind me of Nutan," he said.
Both of us teared up when he said that. Even now, just narrating the incident makes me cry. I always connect better with people who knew my mom.

The five days of shooting was a great experience. Devsaab's enthusiasm kept everyone happy on the sets. It is not that he was enthusiastic only when he made a film. He was always full of energy.
He believed in enjoying every moment in life.
For him, life was a celebration and he lived it that way.

That movie never saw the light of the day. Now I don't have any pictures with him. In those days, we never took pictures on the sets.

My memories of Devsaab will always be happy. It makes me sad that he has left us. But I feel happy he lived his life to the fullest till the end.
His memories, his films, his songs will always keep him alive for those who knew him and for his millions of fans.

As told to A Ganesh Nadar.
Please post Your Tributes to Devsaab here