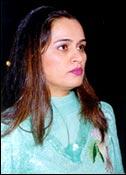 P
admini Kolhapure
,
Lata Mangeshkar
's niece, shares some fond recollections and cherished moments:
Lata Mangeshkar is my aunt, and my earliest memories are of singing in the chorus with her. At that time, I was too young to understand that she was the Lata Mangeshkar, and what she meant to this nation.
It was much later during Satyam, Shivam Sundaram that I met her professionally. I was too young even then, but perfectionists as they were, Lataji and Raj Kapoor called me to the recording studio to sing so Lataji could sing accordingly.
Imagine someone of her position hearing me -- a kid -- sing before she sang for me. Honestly, the result was evident in the beautiful
Yashomati maiyya se bole nandalala
. Even if I sing it today, everyone cheers and it's not even a pop song. She sang it to such perfection, people often thought it was me.
Another song she sang for me, Yeh galiyan yeh chaubara, was very popular. These two numbers are remembered even today.
I think it is a privilege for our generation to be living in her time. I marvel at her calmness, her patience and perception. I learn from her every time I meet her.
Recently, she recorded a song for my Marathi serial Athang composed by my uncle Hridayanath Mangeshkar. The chorus wasn't ready so she had to wait and yet, she wasn't upset at all. I was getting edgy on her behalf but there was no irritability on her part.
After the recording, Hridayanathji said that one line wasn't quite okay so they'd record again. I was irritated. I used to hate it when shooting would have to be resumed after we had packed up for the day. Yet, she was perfectly composed and sang with infinite patience and no attitude or consciousness of who she is today.
I have done over 50 films and she has sung my best songs.
My 14-year-old son Priyank recently had an assignment on three most outstanding personalities of this millennium; he picked Indira Gandhi, Mother Teresa and Lata Mangeshkar and couldn't help boasting that Lataji is his granny.
He came home from school and said in a woebegone tone, 'Mummy no one believes that she's my aaji.' We told Lataji and she consoled him so sweetly. She is special -- really special.
We wish her many more birthdays. She is God's chosen one.