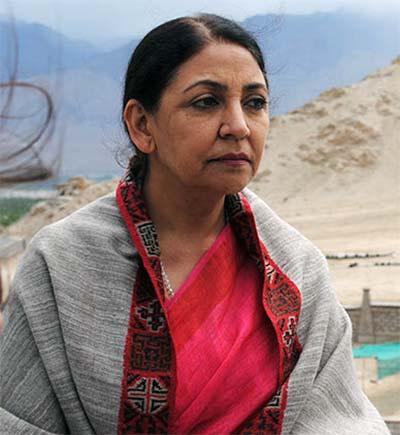 The ongoing Ladakh International Film Festival paid tribute to late veteran actor Farooque Shaikh, who passed away following a heart attack in December last year.

The tribute was kicked off with a small collage of his work from memorable films like Chashme Buddoor, Katha, Bazaar, Umrao Jaan and his very first film, Garam Hawa.
Veteran actress Deepti Naval, who starred opposite Shaikh in many memorable films like Chashme Buddoor, Katha and Kisi Se Na Kehna, and was one of his close friends in real life, paid tribute to him.

"Every time I have to speak about Farooque Shaikh, I am at a loss of words. He was such an endearing person and a wonderful actor. He never acted; he lived the part. I have done nine films and two television serials with him," she said on the occasion.
Talking of their onscreen chemistry, she said "Everybody knows about our rapport on screen, we had great camaraderie as costars as well which is rare to find."
Naval, who is attending the film fest for the first time, said, "This is the best venue to hold a film festival. I personally feel there should be a lot of local participation as well. I want lots of local audiences to come and see the films and discuss the films. This festival should be organised on larger scale."
The actress-filmmaker is a known face in Ladakh -- she comes here once in a while for trekking and the locals are very excited to see her.

"I came here for the first time in 1993, I have trekked a lot and clicked tons of photographs here. My first photo exhibition of all my Ladakh pictures, titled Search of Other Sky, took place in 1998," she informs.

Image: Deepti Naval. Photograph: Reuben NV/Rediff.com