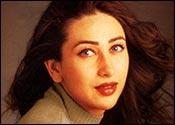 US-based novelist Barbara Taylor Bradford submitted an interview by freelance journalist Pammi Somal as evidence of infringement of copyright before the Calcutta High Court on Thursday. 
The novelist has filed a case against the airing of Sahara Television's mega-serial, Karishma: The Miracles Of Destiny. She claims it is based on her book A Woman Of Substance. 
Bradford claimed Akashdeep Shabir, who directed the serial, had admitted in the interview that Karishma was inspired by her novel. 
The court also heard the taped version of Somal's interview with Shabir.
The serial marks Bollywood actress Karisma Kapoor's debut on the small screen. One episode of the serial, which also stars Bollywood actors Sanjay Kapoor, Arshad Warsi, Jugal Hansraj and Arbaaz Khan, was telecast on May 7. It was then pulled off air as Bradford filed the lawsuit.
Justice M H S Ansari had, on June 30, vacated the May 7 stay order on the serial and allowed the channel to resume telecast from July 7.  When Bradford appealed against this decision, the division bench extended the stay on the serial until the court gave direction to file an affidavit or dispose the application.