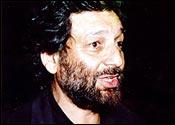 He may have been missing from Bollywood after Bandit Queen, way back in 1994. But when filmmaker Shekhar Kapur speaks, everyone listens.
Of course, the fact that he is the only director to make it big in the international scenario with Elizabeth and The Four Feathers has a lot to do with it.

At the recent Cinemint conference organised by the Confederation of Indian Industries (CII), which looked to explore marketing Indian films globally, Kapur said, "The entry of corporates in the industry is the best thing to happen. Finance has always been the biggest problem in our film industry. Producers shoot films only after raising money. So corporates will help the industry grow. We will benefit if more organised people enter Bollywood.
"Small budget films are good for the Indian film industry. New directors are now getting the opportunity to make it big. You never know, we may see some genius."

Recalling his own experience when he shot his debut film, Masoom (Shabana Azmi, Naseeruddin Shah) in 1983, Kapur said, "When I made the film, people wondered how I could make a film within Rs 17 lakh. But I did. And Masoom was appreciated."

He was critical of filmmakers who concentrate on urban multiplex audiences and forget the rural audiences: "We must realise the urban audience is not loyal to the film industry. The core audience of Bollywood is not from the main centres. Besides making films for multiplex audiences who pay Rs 100 per ticket, we should also think about Bollywood's core audience. If we forget them, our foundation will be shaken."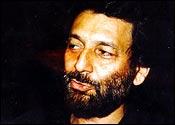 Kapur also said, "We are very good at marketing films. But we need to come together and take the industry ahead, like the IT businesses has done. They started small. Now, they are global giants. We too have to find a common purpose to grow large."

About Western producers and artistes, Kapur said, "Western audiences are thrilled to have songs and dance in our films. They like the drama we present in our films. We tried to replicate that culture in our stage drama, Bombay Dreams [Kapur co-produced it with Andrew Llyod Webber], and it worked well. Today, it is one of the biggest hits on [London's] West End."

"The British Council approached me," he added, "and said they want good scriptwriters in India who can write scripts of international calibre. Indians are good storytellers because they come from a storytelling background."

Asked whether the British Council had formed any committee to hunt for Indian writers, Kapur said, "I don't know the details. They approached me and I'm helping them out."

He was also cagey about coming back to Bollywood. Though he plans to make a film, Paani, he did not reveal the details. He does plan to produce a film to be directed by Vishal Bharadwaj (Makdee, Miya Maqbool).
Click here for
More Features