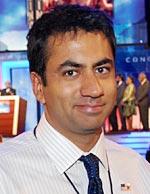 Indian-origin American actor Kal Penn may have landed one of the most important roles of his career!

The Harold & Kumar actor is apparently set to join the cast of hit sitcom How I Met Your Mother in season seven.

The actor will play Kevin, Robin's (Cobie Smulders) potential love interest.

Penn has had an interesting acting stint so far -- he first gained recognition with his stoner films Harold & Kumar and was a cast memeber on the popular medical drama House.

He also worked in Mira Nair's critically acclaimed adaptation of Jhumpa Lahiri's The

Namesake.

Apart from acting roles, Penn has also served as an Associate Director in the White House Office of Public Engagement for which his role on House had to be cut short.

He's reportedly taking a break from his White House job for now.