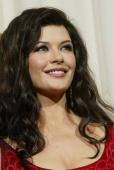 Catherine Zeta-Jones clearly does not belong to the love-thy-neighbour clan.
The sexy Intolerable Cruelty star has just not been able to sway a Welsh planning committee into stopping a neighbour from operating his telecommunications business out of his garage.
The committee voted to allow Gwynn to continue for at least the next two years.
Zeta-Jones is building an estate worth $1.85 million at Swansea, Wales, and wants her next-door neighbour Steve Gwynn out, so that she can have her privacy and security.
Dai and Pat, Zeta-Jones's parents, apparently the future residents of the estate, were just as vehement about ousting Gwynn. A report in eonline.com mentions that Jones & Co sent eight letters of objection about Gwynn to councillors.
"Our clients purchased the plot and agreed to the construction of a substantial dwelling on the clear understanding that it would be private, prestigious and exclusive, and extremely safe and secure as it was a 'gated' development," said a letter from the Zeta-Jones family lawyer.
"Our clients would also be extremely concerned and alarmed by that the privacy and security of the development would be jeopardised by virtue of the visits to site by members of staff, customers and delivery vehicles of Mr Gwynn."
eonline.com also mentions that Gwynn claims he gets a few visits a week, from couriers delivering packages.
Meanwhile, Zeta-Jones will be working in Ocean's Twelve, the sequel to Ocean's Eleven, and in Zorro 2, with Antonio Banderas. She will also star opposite Tom Hanks in Steven Spielberg's Terminal.
Photo: Frank Micelotta/Getty Images