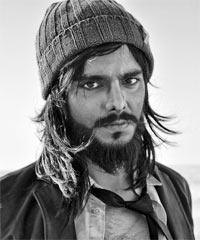 Months after his disastrous acting debut in Rabba Main Kya Karoon, Akash Chopra -- who is the grandson of veteran filmmaker Ramanand Sagar -- directs a thought-provoking short film called The Interrogation Of Kartaar Singh.

Recreating an incident from the 'Khalistan' movement of the Sikh community, Akash stars in the title role as well and manages to create a powerhouse aura in just 13 minutes.

Laughs the shy young actor, "I guess that angry Kartaar Singh was there inside me. He couldn't come out in my debut film. This short film is a shock to those who don't know what happened during the anti-Sikh riots in 1984."

Since the film's content is volatile, Akash plans
to send his short film to international film festivals. "I will take it to Cannes first and then to other festivals. It's a new side to my personality, and was quite a challenge."
The short film recreates an episode from one of the most shameful episodes of Indian history.
"It was a play that I did around two years ago. The honest intention at the outset was to simply give the play a cinematic treatment. But as we shot it, the film became very different from the play," confesses Akash.
"He is a Sardar unlike any we see in our films. It's very appealing to see the Sikh as heroic but what about the darker side to the community's existence that is swept under the carpet?" asks Akash.