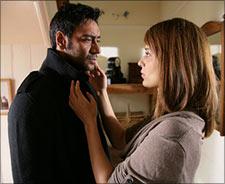 Ajay Devgn -- currently riding on a wave of success -- has had his successful streak interrupted twice by Priyadarshan. First with
Aakrosh
and now,
Tezz
.
Thanks to the
horrific experience
that Priyadarshan has suffered in getting
Tezz
through post-production, the prolific director has decided to change his working policy.
"From now, I'll put it in all my contracts that I won't show a single frame of my film to my producer until it is completed, edited and full post-production is done," declares Priyan.
Hurting under the
failure of Tezz
, Priyan fumes, "The producers took over the film from me after I shot it. It was edited by them and the result were there for everyone to see. So many people, including critics, have told me they couldn't follow the narration in
Tezz
because of the editing. But what is the point of fighting over a dead body?"
But Priyan claims he is most upset because he has upset Ajay Devgn.
Says the apologetic director, "Ajay trusted me completely. We had earlier worked in Aakrosh and hit it off beautifully. He signed Tezz because of me. He could've done any project but he chose mine instead. And this is what happens! I am deeply ashamed and embarrassed."
Priyan is shocked that a Devgn starrer got such a low opening at the box office. "I can't say I'm surprised," he says. "After the way the film has been edited, it had to be rejected. So much of my energy and effort went into Tezz. It was my first action film and I wanted it to be the perfect action adventure. I feel bad for Ajay. I don't know how to face him. I can only tell him I'll make up to him with a successful film as soon as possible."
Trying to rationalize the damage Priyan says, "It was my mistake. Normally, I do all the post-production work, including editing, in Chennai. This time, because we had shot Tezz in Mumbai and abroad, I decided to do the post-production in Mumbai. That was a mistake. The producer took over the film from me. I had no authority over how it finally looked."
Priyan had a similar run-in with producer Feroz Nadiadwala during Hera Pheri when the producer insisted on adding two songs against his wishes.
"But I had edited the rest of Hera Pheri. Those songs were added because the producer felt the film lacked glamour. Tezz was taken away from me. I had no control over the editing," he says.
Priyan says he wouldn't mind working with Tezz producer Ratan Jain again. "But this time he'd have to sign a contract stating I'd have full control over the film's content and editing."