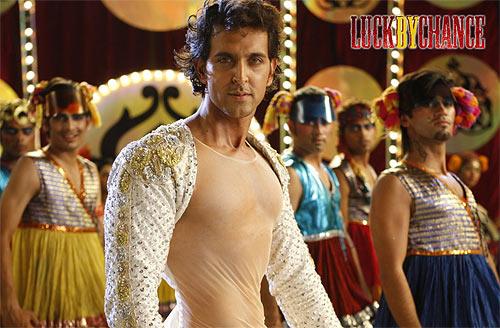 Choreographer Vaibhavi Merchant talks about the dancing sensation that is Hrithik Roshan, on his 40th birthday.

Hrithik Roshan is one of the best dancers of his generation, and that has been proved time and again.

Choreographer Vaibhavi Merchant, who has worked with Hrithik many times, talks about the superstar, on his 40th birthday.

Hrithik is the dance icon of our country.

When he performed Ek Pal Ka Jeena in Kaho Na... Pyaar Hai, his first film, he was a rockstar. He was a newcomer but he took us by storm with his dancing.

Ever since then, he has been the darling of the choreographers. Everybody wants to work with him.

I got the opportunity to choreograph him in Na Tum Jaano Na Hum, in two-three songs.

He is well-trained but more than that, he has a natural gift. His grandfather (Roshan) was a great musician and music director, and his uncle (Rajesh Roshan) is also a music director. So he has music in his DNA.



That is crucial for a dancer to understand and interpret music. The dancer uses his body to interpret music like the musician uses his instruments.

This new age break-dancing, B-Boying, popping and locking that Duggu (Hrithik) does, I don't think anyone else can do it. Shahid Kapoor, Ranbir Kapoor and Ranveer Singh have come after him. He has been the inspiration for many in India.

He has had too many injuries to attempt some of the crucial moves, but he still does it.

I did the Krrish series (Koi... Mil Gaya, Krrish, Krrish 3) with him. We did one sequence and then I came back after a month because they had lot of action to complete. I remember he had broken bones and other injuries by then.

No one has gone through the wear and tear that Hrithik has gone through. Every actor gets injuries, but Hrithik tops the chart.

When we were shooting in Brazil for a Dhoom 2 song, he was very impressed with the dancers there. They have salsa and the Capoeira dance and they are great dancers.

Hrithik was absolutely in awe of those dancers. He would come every evening just to see them dance and learn from them.

He would try and imbibe their style. He is open-minded about learning new styles and refreshing his own.

His domain is western dancing. When I had to do Bawre for Luck By Chance, it needed a power-packed performance. Bawre is folk dance meets Bollywood dance meets hip-hop.

Hrithik had to undergo knee surgery before the shoot. He was doing physiotherapy and had restrictions. He couldn't jump, squat, lunge, or bend.

I was in a difficult position, wondering how I could make him dance. I changed all the dance steps and moved his body weight from the right knee to the left knee.

It was raining on the day of the shooting. We had to flush out the water from the sets. With all that chaos, he maintained his calm and nailed the dance so well. He was a delight. He is most solid at the toughest times.

He works hard. I had to struggle to get him to ease off a bit.

His stardom has never gone to his head. He's not in love with his own reflection. I was shocked to find out that he is very vulnerable.

I wish Hrithik stays happy and hot, and a fantastic human being and believes in whatever he is doing. He should have a good life.

I would love to see him in a Bond movie! He has the capability of going international as he is extremely talented. I wish him all the best.

As told to Patcy N