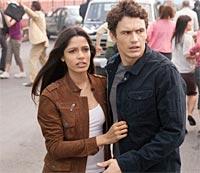 In her first big budget film and fourth release Rise of the Planet of Apes, Mumbai-raised Freida Pinto has a second worldwide hit. While many critics used words such as 'comely' and 'beautiful' to describe her, they also complained her role as an assistant to vet (played by James Franco) was not well-written.

'Freida Pinto is along for the ride as the pleasant vet,' wrote one while the Atlantic magazine critic complained, 'Pinto makes almost no impression at all as the Underwritten Girlfriend.'

There was more to come: 'Pinto looks more beautiful than ever but is playing the most boringly decorous tag-along girlfriend seen onscreen in years.'

Another critic moaned: 'Freida Pinto from Slumdog Millionaire is Will's primatologist girlfriend who has little personality and few lines.'
And yet, this is a runaway box office hit, with a $54 million opening in North America far exceeding the $40 million forecast by major box office pundits, and there is already the talk of a sequel. And if her character is retained in the next film, she could become the first India-born actress to take a $1 million paycheck.
But Freida has to fight hard to get meatier roles, several analysts told New York magazine.
'Like Halle Berry before her, Pinto needs to prove that she has more going on than meets the eye,' the magazine wrote in analyzing her career.
'The real question is drive,' said a Hollywood manager. 'Does she have the determination? You'd think it would be talent that informs the outcome for clients, but the real factor is almost always, 'How badly do they want it? How hard are they willing to work?' It's almost never just talent or looks. I don't know what her drive is.'
She has to prove to the studios and casting directors that she is more than a pretty woman, a publicist told the magazine.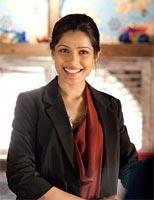 'The publicity part is easy for her -- you can always put her in a photo shoot in a pretty dress -- but the hard part is the material worth writing about,' he added. 'Look at Charlize Theron and [Nicole] Kidman: They made it a point to push themselves -- and their agents -- to be thought of differently. So I actually think she needs to do something where you don't look perfect.'
The prequel to the 1968 classic The Planet of the Apes, the new film is about the dangerous situation coming out of a scientist's unwitting creation of an army of super smart apes.
The film is getting high praise for the CGI ape (Andy Serkis) that delivers a performance of emotion, intelligence and physical strength.
In a few territories outside North America, the film made $23 million over the weekend. Made for $93 million -- unlike many other high tech films such as The Cars which cost about $200 million -- the film is expected to arrive in the UK, Japan and several bigger world markets in the next few weeks.
The question then remains if it would make more money than Freida's first film Slumdog Millionaire which grossed an awesome $370 million worldwide. That film was made for $15 million. Though she was noticed worldwide in it, she is getting the big billing -- in fact, the second following James Franco -- in the new film.
Her second film -- Woody Allen's You Will Meet a Tall Dark Stranger -- brought her good reviews too. But she was part of ensemble casting, and in her controversial film Miral, she played a conflicted Palestinian. That film died quickly at the box office, making less than $1 million worldwide.
She will have a busy year travelling across the globe not only to promote Planet but her upcoming films as well. Immortals will release in November, and is her first film with an Indian director. Tarsem Singh has cast her as an oracle priestess in Greece.
After that, will be Michael Winterbottom's adaptation of Thomas Hardy's Tess of the d'Urbervilles set in India -- called Trishna. It will premieres at the Toronto International Film Festival (TIFF) next month, where her Slumdog had also premiered.
She plays a princess in the Arab-world movie Black Gold, a French production that also has Antonio Banderas.