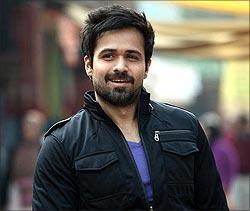 Emraan Hashmi is excited to work with Danis Tanovic', the Academy Award-winning director No Man's Land.

Cinemorphic, the production house of Prashita Chaudhary, will produce the film in co-production with Anurag Kashyap and Guneet Monga's Sikhya Entertainment in India and internationally with Cedomir Kolar and Marc Baschet.

Tanovic is collaborating with Emraan and musician Pritam for the project.

"I really think Emraan is a wonderful actor. It is going to be a pleasure working with him. We both are on the same page and that's very rare to find. Also, I happened to hear Pritam's music and thought he was going to be great for the film," the director said in a statement.

It is Emraan's first foray into international cinema and the Shanghai
actor hopes to gain new audiences with the upcoming movie.
"It's not every day that an actor gets to work with a director whose no stranger to the Academy awards. It's a huge honour to be working with Danis and we hope to create some great cinema together that will entertain audiences both on the home turf and in the west," Emraan said.
Kashyap has been a huge fan of Tanovic and his film
No Man's Land
which beat Aamir Khan's
Lagaan
and three other films to win the Academy award in the best foreign film category in 2001. The director-producer loved the script of the new film.
Prashita of Cinemorphic said, "I'm fortunate to be working with some of the best in the industry and look forward to partnering with like minded individuals who believe in the power of cinema."