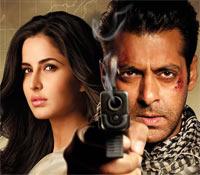 Salman Khan's Ek Tha Tiger has had a spectacular box office start in North America. Yet, it may not be able to break the record of Aamir Khan's 3 Idiots despite higher ticket sales.

In India, the Kabir Khan directed film has grossed some $21 million in its first six days, helped considerably by the Independence Day and Eid holiday but in North America and the United Kingdom, there were no big holidays to benefit the film.

Ek Tha Tiger, which is banned in Pakistan, has grossed about $1.6 million in North America in its first six days.

It is a solid number, the best showing for a Salman Khan film whose popularity has been growing steadily in the lucrative markets of North America and the United Kingdom in the last three years. But while it could lead to a $2.5-$2.8 million box office in the US, it may not come near My Name Is Khan ($3.3 million).

The highest grossing film produced by Yash Raj, which is in business for over four decades, Ek Tha Tiger is also doing strong business in the United Kingdom but not the kind of business that made films like Kabhi Khushi Kabhie Gham and 3 Idiots a phenomenon for more than four weeks.
Many viewers in New York said while they found Tiger entertaining, it did not stir them the way K3G had done, and laugh and cry the way 3 Idiots did.