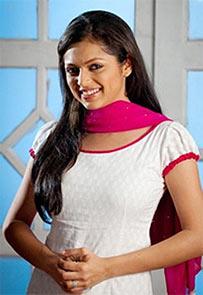 Popular television actress Drashti Dami is in no rush to make her Bollywood debut, not for at least one more year.
Plans to embark on her big-screen career have been put on hold after her decision to co-host Jhalak Dikhhla Jaa.
"It is just not possible. Between my daily soap, Madhubala, and now this new job of hosting Jhalak Dikhlaa Jaa I have no time for anything else.
"I don't even get to take a day off. In the last six months, I only got time off for new year's eve and my birthday, on January 10.
"There's no way I could fit in a movie at the moment."
Drashti Dhami has yet to meet her co-host on Jhalak Dikhhlaa Jaa, Ranvir Shorey.
"I am yet to meet Ranvir but I know he's fantastic with his quips and repartee. It is the first time as a host for me. So, yeah, I am nervous," she says.
"Last year I won Jhalak Dikhhla Jaa. This year I am hosting it. That sounds like two big challenges on the same show for me for two consecutive years.
"It wasn't my idea. It was the channel's. I took it on because it's always a good idea to keep trying to stretch one's abilities."
Her show Madhubala has completed two years.
"I am the only actor who has been in the serial from the beginning till now. I don't see the serial ending in the near future. I'm happy to see it go on. It has got me recognition.
"I won't give it up until it wraps up," she says loyally.