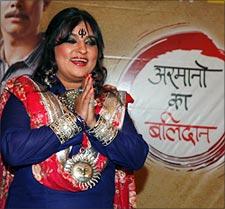 Life after Bigg Boss has changed completely for Dolly Bindra.
The television actor who showed off her loud and brash personality on the realty show, will now show off her arrogant side in Imagine TV's ongoing show Armano Ka Balidaan. Her character Kabootari Mai will enter the show on February 15.
Dolly talks to Rajul Hegde about life after Bigg Boss and more.
How has life changed after Bigg Boss?
I won't lie. I am getting more offers after Bigg Boss. I must have got at least 30 offers! I choose Armanon ka Balidaan because this was the first show that was offered to me after I came out of Bigg Boss house, the first time.
I liked the role but couldn't sign then because I was bound by the (Bigg Boss) contract. Also, I was not sure whether I would go back to the house or not.
What attracted you to this role?
 I loved the role, especially the name Kabootari Mai. I have a very powerful character. It's a central part of the story.
Why a negative role?
This is just the beginning. I have lots of acting in store (laughs)! This character will add spice to the show. I don't look at the role as a negative or positive one because there are many characters in every story and you perform the one that suits and interests you.
Kabootari Mai has very unique character. Her actions and dialogue will create a huge impact on the viewers.
What is your look like in the show?
We stuck to a rural-looking ghagra, a bindi in a trishul shape and heavy silver neckpieces.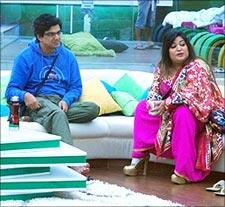 Did you do any kind of preparation for this role?
Together with the team, we created a certain attitude for the character. She is blunt, greedy and has grey shades.
Kabootari Mai runs a family business of funeral services. She is very loud and dominating. Her son Akash marries Sumedha but Kabootari Mai refuses to accept her.
Kabootari Mai will give an unexpected twist that will take viewers by surprise.
There are reports that you're doing the show for a fee of    1 crore?
I don't want to comment on monetary issues. But I would like to say that ghoda ghaas se dosti karega toh khayega kya (if the horse makes friends with the grass, what will he eat)? Everyone works for money. I am not a social worker and I have to pay my bills at the end of the month. I have charged what I deserve.
There were reports that you were offered Zee TV's show Ram Milaye Jodi and that you accepted it, but ditched them at the last minute.
I had discussed the show with them but nothing was finalised. Then I got to know that they had already sent press releases to everyone. Now you tell me, how can I be wrong when I have not signed any contract? Main chaye yeh karun main chaye woh karun -- meri marzi (I can do anything, it's my wish).
Jokes apart, work is worship for me. I don't have anything against any channel. If I am offered an interesting role in Ram Milaye Jodi in future, I will do it.