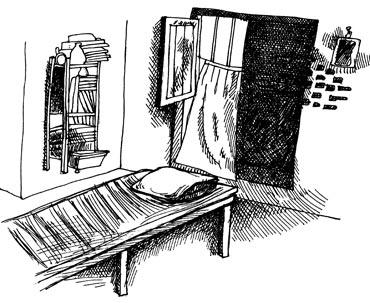 Robert Hirschfield goes looking for the space he made his own from the moment he saw Indian filmmaker Satyajit Ray's Apur Sansar (The World of Apu).

'Why have you come to Kolkata?' At two in the morning the immigration official is a ghost. Like me, he is only pretending to be alive.

'Never been,' I say.

What if I tell him the real reason?

'I am here to look for a room.'

Not a room to live in. I already have that. A room from a film. A film I saw before he was born. A film I never stopped seeing. The World of Apu (Apur Sansar).

He would have heard of its director, the late Satyajit Ray. In Kolkata, everyone knows of Ray, the renaissance man of West Bengal: classic filmmaker, writer of children's mystery novels, editor of a children's magazine, composer of film music.

In a city of 11 million people, how many rooms do you suppose there might be? I laugh trying to imagine.

My own room in the Hotel Diplomat is a tiny, poorly ventilated affair with a sliver of window in the bathroom that looks out on absolutely nothing. If the Diplomat were a prison, my room would be a punishment cell.

Apu's room is square and bare but for a few books and a perforated curtain slung across the window over his bed to keep out the monsoon rains. The iconic room of a poor young writer. I still wear that room inside me as an amulet of creativity. Yet I can't stop asking people if they know where it is.

Obsession is hard work.

On a cinema marquee on my way to the Kali Temple, I see a gray-haired Soumitra Chatterjee, thick around the waist now, but once the young Apu whose mind full of stories and flute notes was larger by far than the place he lived in.
I stop to look at him. That he has grown old like me hardly seems right. Myths are myths because they defy time. We may change, but myths we carry within us are changeless. In all the times I have seen Apu not a single gray hair has grown on his head.

For old times sake, I want Chatterjee to speak to me, to come down from the marquee and point the way to the room he lived in as Apu before his wife died. I want to have a Purple Rose of Cairo moment, where Jeff Daniels, as archeologist Charles Baxter, steps out of his role and out of the screen, and into the life of his devoted admirer, Cecilia (Mia Farrow.) But Chatterjee is unmoved. He looks out into the haze of South Kolkata, as if trying to decide what to do about it.

I have never quite understood how film images incubate in us. An avid filmgoer in my childhood, I must have seen hundreds of films in impressionable solitude at the Mt Eden Theatre across the street from my house in the Bronx in New York.
Thanks to Errol Flynn and Tyrone Power, I saw more shipwrecks than car crashes as a boy. When I was 13, I went to see Red River, with all those cattle thundering through the Bronx on their way to Missouri. And it was Ava Gardner, sultry in her fake Hollywood Shanghai, from whom I learned everything I thought I needed to know about love. But strangely, none of those images stuck with me. I was never tempted to travel to the Painted Desert, or wherever it was they shot those Westerns that were my Sunday afternoons.

I was 19 when I first saw The World of Apu, and already I knew I wanted to become a writer. I was still living with my parents in the Bronx, so in part, I guess, it was the fact that Apu had a room of his own that made it appealing to me.

Everyone I knew was still living at home. I had previously seen Ray's Aparajito and Pather Panchali. They were the first Indian films I had ever seen. They were the most mysterious films I had ever seen. Not simply because they were my first glimpses of India, but because they were one of my first glimpses of true art. Images that defined life through light and shadow, mood and tone, with little need for characters to always speak themselves into being like they did in the Hollywood films.
When I first laid eyes on Apu's room, I secretly made it my own. I told no one else about it. I wrote in it without ever having been in it. Its physical dimensions were only one part of its reality.

At a party one day in Howrah, I meet this lovely young woman. Before I even know her name, I am talking to her about the films of Ray.

'They put me to sleep,' she says, and introduces me to her boss, a manic Kolkata filmmaker, and an admirer of Ray.

What I want to know, he will be able to tell me. After five seconds, all my self-control is depleted.

'Where in Kolkata is that damn room?'

The director just laughs. 'That room is not in Kolkata. It's in a place outside Kolkata.'

'That's funny.'

But he is the only one who is laughing.

'I can take you there.'

'No, that's okay. I think I will stay here.'

Illustration by: Uttam Ghosh