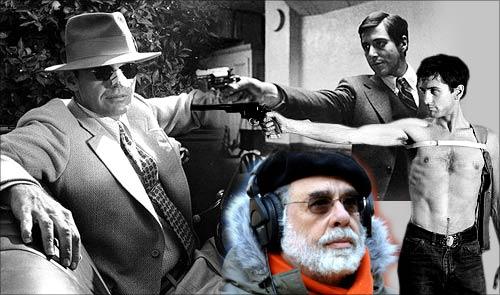 Jack Nicholson in Chinatown, Al Pacino in The Godfather, Robert De Niro in Taxi Driver. Truly classic performances, universally acclaimed.
And while Francis Ford Coppola (inset) isn't disagreeing with this past glory, he just believes it's all over now.
Coppola's uncredited directorial debut, The Terror, starred a very young Nicholson, and his Godfather series won Pacino and De Niro lifelong plaudits.
The legendary director doesn't mince words in an interview to GQ magazine, saying the stars are lacking in motivation and spoilt by success.
'[Pacino and De Niro] were young and insecure,' Coppola says of the early years, after he'd cast Pacino, blown away by his performance in Panic In Needle Park. The director is currently most-unimpressed with the actor's body of work over the last decade. 'Now Pacino is very rich, maybe because he never spends any money; he just puts it in his mattress.'
Coppola is more charitable toward De Niro, who won an Academy Award for a stunning performance in his Godfather II. 'De Niro was deeply inspired by Zoetrope [Coppola's studio], created an empire and is wealthy and powerful,' the director says, before pointing out that the actor is resting on his laurels instead of seeking thrilling roles.
And Jack? 'Nicholson was - when I met him and worked with him - he was always kind of a joker. He's got a little bit of a mean streak. He's intelligent, always wired in with the big guys and the big bosses of the studios. I don't know what any of them want any more,' Coppola says, seeming genuinely disillusioned. 'Pacino always wanted to do theatre ... [He] will say, 'Oh, I was raised next to a furnace in New York, and I'm never going to go to LA,' but they all live off the fat of the land.'
'I think if there was a role that De Niro was hungry for, he would come after it,' Coppola concedes, while coming down harder on Nicholson. 'I don't think Jack would. Jack has money and influence and girls, and I think he's a little bit like Brando, except Brando went through some tough times.' Francis would know, the director having faced the best and most difficult of Marlon Brando's phases with The Godfather series and Apocalypse Now respectively.
Coppola himself has enjoyed only mild success with his films over the last decade and a half. That isn't to say that he hasn't been busy, however. He has toiled exhaustively over his vineyards in California's Napa Valley, to resounding acclaim, and his Zoetrope short story magazine is at the forefront of literary periodicals in the US, featuring contributions by the likes of Salman Rushdie, Amy Bloom and David Mamet. And his latest film, Youth Without Youth, is expected to release this winter.
As for his comments, here are the acting choices they stem from: Al Pacino's last critically-acclaimed performance, apart from a star turn as Shylock in 2004's Merchant Of Venice, came in 1997's Donnie Brasco. Robert De Niro too had a good year a decade ago, with 1997's Jackie Brown and Wag The Dog, despite both performances falling far below the Raging Bull barometer. And then there's Jack Nicholson, who continues to cater to the Jack-loving galleries, playing himself in every role -- most critics would agree his last truly special acting job also came in 1997, where he won the Oscar for As Good As It Gets.
An interesting coincidence. The three greatest actors of a generation all last shone 10 years ago. Pacino, in a Playboy interview last year, was asked to name successors, 'the three best actors of this generation.' His answer? 'Johnny Depp, Sean Penn and Russell Crowe.'
If the Godfather creator is to be believed -- and few would dare contradict him -- abdication might be in order.
Imaging: Uday Kuckian