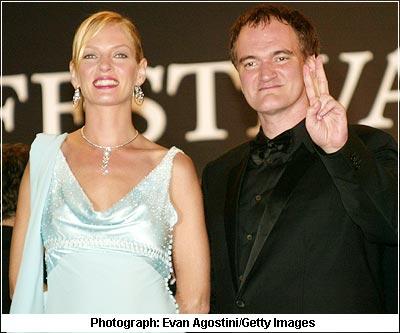 Star attractions continue to rule at the prestigious Cannes international film festival.
This time it was the 'Bride' and her 'creator' at work.
The Kill Bill Volume 1 & 2 team of actress Uma Thurman and filmmaker Quentin Tarantino thrilled their fans at the festival's 57th edition.
The second and final instalment of Tarantino's violent revenge saga enjoyed an out-of-competition screening at the Grand Theatre Lumiere.
Both the film and its stars -- Michael Madsen, David Carradine (who plays Bill) and Daryl Hannah who were present as well -- were accorded a huge applause.
Tarantino was honoured with a standing ovation. The director of cult classics like Reservoir Dogs and Pulp Fictiono, who has expressed his desire to make a James Bond movie, is a jury member this year.
Both Kill Bill Vol 1 and 2 did well at the US box office.
Don't miss:
Ash S-I-Z-Z-L-E-S at Cannes!
Brad & Jen are toast of France
Liz Hurley, Arun Nayar in Cannes