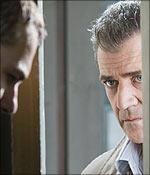 Eight years ago Mel Gibson gave M Night Shyamalan the biggest weekend opening of his career with Signs grossing $43 million across North America.
This week as his sentimental thriller Edge of Darkness opens in North America, two things could happen: It might topple James Cameron's Avatar as the top film of the week, and it could also prove that Gibson, 54, who is appearing in his first starring role since Signs, can still open a film big, though not as big as Shyamalan's film.
Gibson, whose personal life has suffered considerably in recent years following his arrest on a drunken driving charge, the collapse of his 30-year-old marriage, and his anti-Jewish outbursts, would surely welcome a hit movie.
He plays a homicide detective in the film, based on a BBC series, and directed by Martin Campbell known for his adrenaline pumping films such as Casino Royale and The Legend of Zorro. Campbell also directed 25 years ago BBC TV series Edge of Darkness in the United Kingdom that has inspired the new film.     
Avatar is expected to gross about $30 million over the weekend, taking its total to a formidable $590 millions in North America. The Gibson film has a good chance of toppling it on Sunday, though a week later Avatar could bounce back to the top position buoyed by a slew of top Oscar nominations.
Outside North America, where Avatar has beaten Cameron's Titanic -- $1.28 million grossed 11 years ago -- to the second place, not accounting for the inflated ticket prices, the mega hit is expected to remain at the top. For six weeks it has grossed more than $100 million each week. According to distributor Fox, it has set records in many countries including France where it has grossed $113 million in just about six weeks. But the most impressive record comes from China where it has made over $100 million  In India, the film has taken about $20 million, according to Fox  .Over the weekend, it could grab around $90 million outside of North America.
If Gibson's film has a strong opening, it could give him a $100 million hit in North America, followed by a more lucrative run abroad.
He directed two films The Passion of the Christ (a huge hit) and Apocalypto (a success) when he was absent from the screen in lead roles; his hiatus from acting was intentional, he recently declared..
'Frankly, I thought I was getting a bit stale,' he said in an interview..
The story of Edge of Darkness, in which a detective sees his activist daughter killed brutally, hit the actor and film-maker hard. It has a lot to do with his own parenting of his eight children including a daughter born in October with his girlfriend..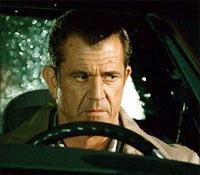 'Parenthood informs so many things,' the star of such hits as Ransom and Lethal Weapon series, said. 'You're never quite the same again after you have children ...it makes you more aware ... it informs what you do on screen.'    
In the new film he sets out to average the murder of his only daughter, played by Bojana Novakovic, a comparative newcomer from Australia. The detective suspects that he was the intended victim but he is afraid that something his daughter was doing had angered powerful people. Soon he finds out that the murder is linked to corporate corruption and political plot.
The film has also generated good buzz for two other performers. Ray Winstone plays a government agent who will not hesitate to cover up any problems and Danny Houston as a corporate honcho without a conscience.
There are just a few actors who are over 50 that can open a film big. Among them is Harrison Ford --- not when he acts in films such as Extreme Measures which had a disappointing opening last weekend but it is quite another story when he acts in an Indiana Jones film. Two years ago, Ford, who is 67, had the biggest success of his career with Indiana Jones and the Island of Crystal Skull two years ago.
Edge of Darkness, despite an ominous title, could be yet another bright hit for Gibson in a career full of hot hits.