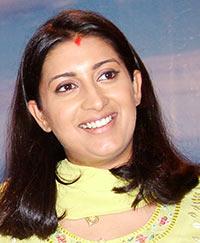 The next schedule of director Umesh Shukla's new film All Is Well has been postponed indefinitely.
Cast members Rishi Kapoor and Abhishek Bachchan, who play father and son, are left waiting as Smriti Irani, with her new job as the Minister Of Human Resource Development, attends to far more crucial matters than make a movie.
This puts the project in a quandary, as Irani's presence is extensively required for the next shoot.
"All Is well is about a road trip undertaken by Rishi Kapoor and Abhishek Bachchan, who are later joined by their mother, played by Smriti Irani. There is no way the film can be shot without her. She is in almost every frame. Until she finds the dates, the shooting remains postponed," says a source.