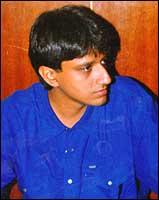 First things first. Vikram Bhatt's new comedy Deewane Huey Paagal is modeled on the Farrely brothers' 1998 comedy There's Something About Mary. It is not a sequel to the director's 2002 comedy Awara Pagal Deewana.
"We do have the same team, plus Shahid Kapoor whom I have worked with for the first time," Bhatt says. "Aftab (Shivdasani), who was one of the protagonists last time isn't part of the main cast this time. But he makes a surprise appearance."
Bhatt's tone softens when he speaks about Aftab. "He's a pal. Aftab has done maximum number of films with me. In fact, we have finished shooting Ankahee where he plays a doctor and we have just started shooting for Harry Baweja's next where I get to work with Urmila Matondkar for the first time."

For the moment, Bhatt is looking forward to Deewane Huey Paagal. He admits that the film derives inspiration from the Hollywood film just as his earlier production Awara Paagal Deewana was modeled on The Whole Nine Yards.
"But only the basic plot is the
same. The characters are very different from
the original. After all, a comedy can only go a
certain way. There will be either a group of men chasing a girl, or an infidelity or heist or some other crime. I have chosen the first option."  
Bhatt admits there's a glut of comedies in Bollywood. "Our industry tends to overdo every genre until it's exhausted. I can't claim Deewane Huey Paagal makes a significant departure from the comic formula. I won't call it a pathbreaking film. I can call it a safe film."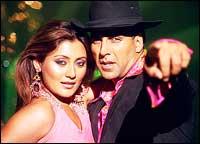 Does he feel the comic genre has reached a saturation point? "Not really. It's true that Shaadi No 1 didn't do well. But No Entry and Garam Masala are hits. Although Deewane Huey Paagal comes close on the heels of Garam Masala, I don't think audiences will find my film repetitive. What Akshay Kumar did in Garam Masala is quite different from what he will do in my film."


Though producer Feroz Nadiadwala and his favourite Akshay Kumar are known to make their presence felt on the sets, Bhatt has no complaint. "All the heroes -- Akshay, Suneil Shetty, Shahid Kapoor and Paresh have clearly defined roles. Two of them, Suniel and Paresh, play physically challenged characters. But we don't ridicule their handicap. Nor do we use the handicap as a formula."


Having worked with Akshay and Paresh Rawal before, the director has developed a comfort level with them. "But Shahid was a new experience for me. He underestimates himself as an actor. He works really hard on every sequence. Though he's fine in a take, he wants another."

Deewane Huye Pagal will release on November 25.