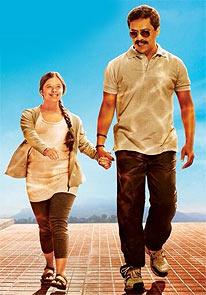 Not even in his wildest dreams did cinematographer-turned-director Mahesh Limaye imagine that his first Marathi feature film Yellow would create such a devastating impact.
Based on a differently-abled child, and produced by Riteish Deshmukh, the film has bagged a National award.
"We knew we were making a sincere emotional film about a specially-abled child and her relationship with her mother," says Limaye. "The emotional strength was inherent in the story. All I had to ensure was that I told the story as sincerely as I could."
Mahesh says he's stunned by the film's impact. "Though it's a film in the Marathi language, it's being watched by non–Marathi audiences. That to me, is the film's greatest achievement. If we can make audiences watch a film in a language they don't speak or understand, we have achieved what art is supposed to do. Gauri's story could not remain region-restricted. Her saga is the ultimate triumph-of-spirit saga. We were sure it would have an emotional impact on the audience but we never knew it would reach so far."
Limaye who has done the cinematography for many Madhur Bhandarkar films like Corporate, Traffic Signal, Fashion and Heroine, says his directorial debut was providential. "Although I have observed and worked with specially-abled children, I never thought I'd make my feature film debut with a film on them."
The director gives credit to producers Riteish Deshmukh and Uttung Hitendra Thakur for making Yellow possible.
"They believed in Gauri Gadgil and her story of how she overcame her disability to become an Olympian swimming champ. When I was asked to direct this amazing story, I felt a huge sense of responsibility. It was as though I was being told by invisible powers to put forward a story that would inspire generations."
The subject required four months of intense research.
Directing a specially-abled actor in the lead role was not easy. Mahesh says his long experience as an ad filmmaker helped him get a grip on the situation.
"When you direct an ad, you learn to tell a story quickly before the lights fade and the audience lose their concentration. In my 20 years of experience as ad maker, I have frequently worked with kids. They are to be handled with great patience and sensitivity. I guess those 20 years of experience in making ads prepared me for this big challenge that was Yellow."
The lead actor, with her exceptional physical and emotional condition, had to be often coaxed into facing the camera. "There had to be a lot of adjustment in and around her emotional status. For some stretches of time, she would not want to shoot. We couldn't pressurise her. So we just had to wait. But then once she was in the right frame of mind, she would just swim through the scenes."
Shooting with Gauri Gadgil has changed the director's perspective as a human being.
"I think better," he says. "I look at life with far more compassion and gratitude. Shooting Yellow has changed my attitude to life. We take so much for granted until we meet someone who has to overcome major hurdles in life. An experience like Yellow teaches you to stop being greedy about life. We covet too many things and appreciate too little."
Mahesh is completely taken aback by the force of his film's impact. "Right now, I am still coming to terms with what the film has achieved. It will take me a very long time to come out of the Yellow impact. But yes, I want to make a love story next. It doesn't matter which language the characters speak, as long as they speak the language of the heart."