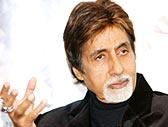 All of the Hindi film industry -- not to mention his countless fans -- has been waiting eagerly for news of Amitabh Bachchan post his ailment in November last year, and his stomach surgery.
There are a myriad producers waiting to sign him up for new films, while some movies have been stalled because of the megastar's physical condition.
And finally, here comes the big news: Amitabh is ready to start work again. Excerpts from an interview with Subhash K Jha.
Why this sudden decision to get back to work?
It isn't sudden. I'm starting with dubbing for Vidhu Vinod Chopra's Eklavya, which I hope will not be strenuous. The film has sync sound but it needs dubbing here and there. It's hardly an hour's work. Vinod has been waiting since December for me.

A few days ago, I did some recording with Aadesh Shrivastava for Baabul.
I shall also be singing a song with Abhishek.
Tell us about that.


It's a private album that Rohan Sippy is producing, with music by Vishal-Shekhar. I don't know what kind of a song it is yet. They're keeping it a secret from me. Once the track is ready, they will ask me to record with Abhishek.


When will you start shooting?


It should happen by end of March.

Do you think you've regained your energy to that extent?

I don't know. I will find out soon. I'm going to take one step at a time. I'm starting with what is less stressful and what does not require me to go to the studios. I will be undergoing my final tests at the end this month or the first week of March. Then we will start allotting my dates for film shoots.


That would be for Karan Johar's Kabhi Alvida Na Kehna and Ravi Chopra's Baabul?


Yes. For KANK, most of the work is over. Some small scenes with Abhishek are remaining. Baabul requires a lot of dates. Their 20-day December schedule was cancelled because of my illness. Those are the only two films I have on the floors.

Then I have Balkrishnan's Cheeni Kam, Ram Gopal Varma's Sholay, Sarkar 2 and Ek in various stages of pre-production.  And I must tell you, my make-up man Deepak Sawant has been waiting patiently for me to make a special appearance in his Bhojpuri film. 
His is a small film, and he does not have

 

that much resources.

 

Deepak was supposed to finish

 

his film

 

by November. This (my illness) has been a terrible blow for

 him

.

 

As it is Bhojpuri

 

cinema, it

 

isn't flush

 

with funds.
When did you actually take the decision of heading back to work?


I asked my doctors. They've been monitoring my health. They said I could do some work to start with.
There's a queue of producers waiting to sign you.


I can't meet too many people right now. Some of them have left scripts with me. Deepa Mehta has spoken to me about  Komagata Maru. I'm waiting for the script.


Will you attend the Filmfare awards on Saturday?

I might.