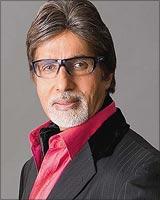 Megastar Amitabh Bachchan, who is happy and thrilled about becoming a
granddad
, feels the grandchild will bring out the child in him.
"Thank you all so much...for all the blessings, greetings and good wishes...yeh sach hai ki pota Dada ke liye uska bachpan lekar aata hai ...wrote a well wisher... (Its true that a grandchild brings along with it the child in the grandfather) and I could not agree more with this," Bachchan wrote on his blog.
"On many an occasion we reminisce the time we lost in not being as much as we wanted to be with our children..could
somehow be compensated. Well, this is that moment of compensation. To be a child again, to pamper and give love and company and all things bright and beautiful to the little one that shall take over all our attention in the days to come," Big B said.
Last night, the 68-year-old actor, broke the news of his daughter-in-law Aishwarya Rai being pregnant through a social networking site.
"And so to becoming a Dada! The excitement and the joy of the first Bachchan coming after my brother and me and Abhishek and Bhim and Shweta and Nilima, Namrata, Naina. Nana I was, but now Dada!! The doctors just confirmed it this evening and I have shared it immediately," he said.
Bachchan is delighted that the legacy of his late father Harivansh Rai Bachchan, a well-known Hindi poet, will be continued.