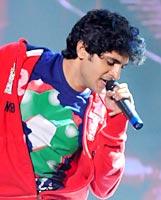 A
mit Jadhav
, who was eliminated last week from the music reality show
X Factor
, says he does not think he should have been the one to be shown the door.
"I never missed any
sur
in the face-off round but the Sajda Sisters missed the rhythm in the opening lines itself. I respect the judges' decision, but I am disappointed after the elimination as I sang better than the Sajda Sisters," he said.
Like all the other contestants, he says he is grateful for the opportunities he got by being on the show. "The show gave me an opportunity to showcase a good performance where I could also display my dancing capabilities."
He also learnt an important lesson. "I have learnt that you should stick to the X factor that you have and should not try to go away from it. You have to polish that X factor and make that the best in you."
He says what may have gone against him is that he did not feel it necessary to dance while singing every song. "The judges expected me to dance in all my performances. When I didn't dance in a song like
Zara Si Dil Mein De Jagah Tu
, they felt I didn't give my best. I don't think it's necessary to dance in every performance," he says.
Does he think he is a better dancer than singer?
"In India, there are not many who can dance and sing. I want to be like Michael Jackson who could do both. I would have taken part in a dance competition if my interest was only in dance," he replies.
Amit has participated in Fame Gurukul but was eliminated quite early. "X Factor gave me a lot of exposure and provided me a platform to show my talent."
His future plans include acting. "I am a trained actor. I was doing a movie, but for some reasons it got shelved. I give stage shows in India and abroad.  Now I want to have concerts all across the globe like Michael Jackson. I will do the playback in movies where I will act," he says, smiling.
So, who does he think will win the title? "I think Deewana Group has it in them to win the title."