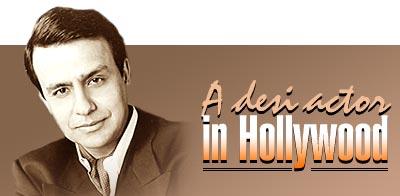 Ajay Mehta, who played a beleaguered Pakistani immigrant in the well-received off-Broadway hit East Is East, has had his share of guest roles in over a dozen television films over five years.
Though he feels his career could take a big break, Mehta, who lives in New York and Los Angeles, is glad he has got interesting cameos regularly.
He has been seen as a doctor in television shows such as The Education of Max Bickford, Law & Order SVU, Soulman; a Saudi billionaire in The Street; a sleazy businessman in The Sopranos and a diamond dealer in Law & Order/Criminal Intent. He says he has got quite a bit of thrill working with some of the best known talents in Hollywood.
Of course, he wishes he had more than fleeting parts in such films as People I Know (with Al Pacino).
He spoke to Senior Editor Arthur J Pais recently. 
Has it become easier for non-American actors to get parts in mainstream television and films in the last five years?
Indeed, it has. As with everything else, the world of entertainment is a global village. In this age of the Internet, American casting directors, producers and, more important, audiences, are more open to other ethnic groups living in America.  Money talks. As Indian Americans we make a substantial contribution to the economy and have high-end jobs, be it as doctors, scientists, lawyers, engineers, (or) Silicon Valley billionaires, thus hard to ignore.
For many years we used to complain we hardly saw Asian or Indian doctors in films and on television. That has been changing considerably in recent years. American movies have a world market, and placing a few non-American actors makes a lot of sense.
What obstacles do actors face in getting roles on television and in films in America?
There is always the issue of the color of your skin, race, religion, and (the fact that) your culture that may not be as familiar to America (as a) religion and culture established over 250 years (ago).
What did you think of the casting for Harold and Kumar Go to Whitecastle?
It was good. I have not yet seen the film but I intend to. I did audition for the father's role. But I was too young for it.
Kal Penn and John Cho are good and amusing as leads, I feel, having watched the preview.
Have you felt discouraged from time to time for not getting solid parts?
I have been disappointed but not discouraged. All actors have to learn to deal with rejection. You might have done good work during the audition and a director may like you but many intervening factors could go against you. As in any sporting event, someone wins or loses. You then do not lose time and prepare for the next game!
How do you handle disappointments and setbacks?
You deal with the emotion when it hits you, put it aside and move on to the next project. You cannot let dejection or disappointment pull you down.
What has been your biggest disappointment?
Not getting a series regular on primetime. Earlier this year during the television pilot season in Los Angeles I approached the NBC network for its new sitcom Nevermind Nirvana for the role of the father. Again I was too young for the role, but I enjoyed the experience as David Schwimmer (Friends) was directing the pilot episode. He was terrific to work with during the final selection process.
What has been the most gratifying thing?
Getting challenging characters to play, especially doing comedies which, is a tough task. It is never easy to make people laugh.
What would you tell young desi actors by way of dos and don'ts?
I would say to any actor, be patient, work hard at your craft and have another career to fall back on. We are not talking of another job but real careers. Acting comes from within you so it can take its toll as you struggle. Be realistic about your career and stay focused.
What gives you the courage to carry on?
My love for acting is a passion I have had since I was three years old. This profession is not for everyone and it needs to be dealt with by giving it 100 percent attention. Perseverance is important in this field.
Roles come to you but you also have to go around looking for roles, isn't it? How do you do the latter?
I am fortunate to have a wonderful manager and an agent who work closely with me.
However, as an actor one has to be proactive, so I am working on my story and script ideas constantly and networking in the industry.
How is it Bollywood has not been able to use desi actors in America and Canada?
I believe they have acted in smaller roles when Bollywood movies were shot here. However, if they are union actors, Bollywood may shy away from them because of the contracts and money. It is all about cost in any business.
What is the script you are working on about?
It's a unique, hysterical comedy and I am pitching it to the networks. NBC has shown interest. But I don't want to speak about it now.
Upcoming actors do a bit of waiting the tables or take up similar jobs. How about actors who get small but good parts -- someone like you -- from time to time. What do they do?
I am self-employed and work as a media consultant. That gives me the flexibility to pursue my acting career.
You have been on the stage in New York. Now, there are many Indian actors on the stage, apart from those in Bombay Dreams. What advice would you give the actors who want to make it in theater?
Theater is the best test for an actor. Training at acting schools or private coaching is advisable as you learn basic discipline and techniques. The grounding has to be solid. It helps tremendously when one works in films or on television. Use the theatrical experience, to get into films and television.
What have you learned from acting in plays like East is East?
East is East was a wonderful experience as it dealt with issues of mixed marriage and conflicting cultures that had a universal theme, especially in the US where we see so much of it.
It was a dramady (comedy/drama) as I would like to call it. The onstage experience was invaluable, giving me a lot of discipline and confidence in my craft. I would love to do it again, maybe in LA.
What about stereotypical roles?
Being an ethnic actor you are always subjected to it but remember you always have the option to turn it down even at the cost of losing a job. It is a personal decision one has to make. There have been times when a stereotypical accent is required and, after discussing it with the director as I was playing a doctor, I didn't have to do it and I spoke in my normal voice.
There are times when you can bring about a change subtly, as it is your responsibility to do so.
You must have acted as a swarthy, heavy-accented cab driver or a terrorist?
I have done my share of cabbies, be it Pakistani or Indian and deserve an honorary medallion from New York City (kidding).
As far as a terrorist goes, sure, why not? It's a character like any other. It's good to be bad on screen that people will remember you.
Did you despair and say, I am going to give up acting?
Nope, never. It's part of existence, the elixir of life, I intend to do it till the very end. I look at it as my karma in this world.
Do you believe in astrology?
Sure, I do. Astrology is a science. But destiny is in your hands to develop and change. I guess that, in turn, becomes your karma. One should not get bogged down by astrology but (one) can use it for basic guidelines in life.
What has your astrologer told you recently?
I have not seen one, but have been reading general stuff about my horoscope. I am happy to say it's looking good.
Image: Uday Kuckian